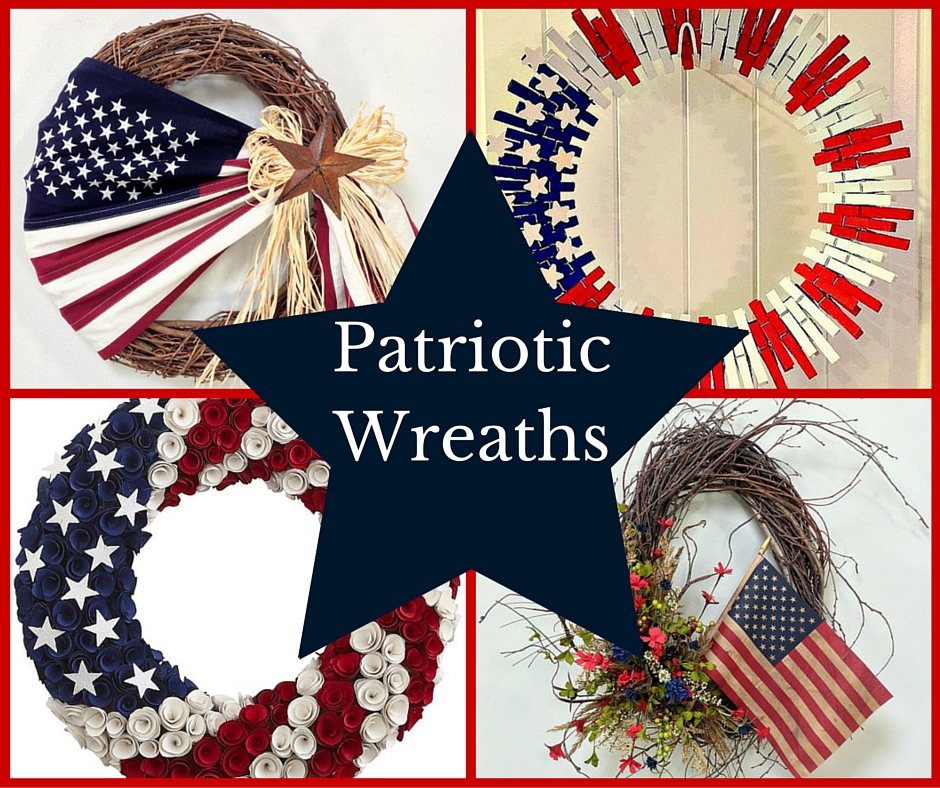 Patriotic wreaths are a great way to show your American pride. They can be displayed on an outside door, inside, or as part of a decorative outdoor display. A patriotic wreath makes a great decorating choice for the Fourth of July, Memorial Day, or Veteran's Day. They are also a lovely item to display at the grave of a loved one who was a military veteran. Etsy sellers offer a wide selection of patriotic wreaths that are sure to suit any taste. Here we look at some of those offerings.
Primitive Patriotic Wreath
This is a handmade, made to order item featuring a grapevine wreath, artificial berries, a rusted star, wire, and scented oil. Features a blue bow at the top of wreath, a rusted tin star in the center, with the 16 to 17 inch grapevine wreath base covered with deep red berries. Simple, yet stunning! Choose from a choice of 36 scented oils to make your wreath smell delightful, or choose unscented.
Flag Americana Wreath
Handmade from a grapevine wreath, canvas flag, raffia, and a rusty star. An American flag is draped across an 18 inch grapevine wreath base and accented at the end with beige colored raffia and a rusty American star. A simple, yet elegant design. When displaying outdoors, please place in a location protected from the elements.
Burlap 4th of July Wreath
This patriotic wreath is made from red and natural colored burlap, navy blue wired ribbon with stars, a wreath form, and pipe cleaners. One third of the left hand side is done with the blue, starred ribbon, while the remaining two-thirds has the red and natural burlap. Wreath has an attractive "puffy" look to it. Makes the perfect patriotic decorative accent piece.
Americana Wreath
This handmade item is constructed from a twig wreath, wire, glue, metal star, and pip berries. This 20-inch twig wreath holds a 12-inch metal patriotic US flag barn star with country red, cream, and navy blue pip berries swirling around it.
Red White Blue Hydrangea Wreath
Handmade wreath is made from a grapevine wreath, artificial hand blended Hydrangeas in vintage red, vintage white, and denim blue, artificial foliage, and eco friendly adhesive. The entire wreath is covered with clusters of mixed red/white/blue flowers. This wreath should be displayed where it is protected from the elements and is offered is three sizes of 6, 9, and 12 (detailed in listing).
American Clothespin Flag Wreath
This wreath is made from clothespins, wire, paint, and wood. Two-thirds of the wreath is covered in sets of three alternating red and white clothespins, while the other third on the left hand side is covered with a cluster of blue clothespins with white stars attached to them. Very cute and Americana.
Felt Fourth of July Wreath
The completed wreath measures approximately 21″ in diameter. It is made up of hundreds of felt, die cut circles in red, white and blue. The circles have been pinned by hand to a 18″ styrofoam wreath form to look like the American flag.
Patriotic Primitive Wreath
Handcrafted from grapevine, pip berries, sinamay, burlap, rusted stars, and a tea stained flag. Wreath measures 27 inches long by 21 inches wide and features clusters of cranberry, mustard gold, and moss green pip berries and rusty stars along the edge. An 11.5 inch rusted star rests at the base of the wreath along with a tea stained American flag resting gently to the side. Large bow at bottom is made from swirls of natural Sinamay and olive drab burlap.
July 4th Uncle Sam Wreath
This delightful wreath is made from decorative mesh in red/white/blue, ornaments, silk flowers, wired ribbon, and an Uncle Sam hat and legs. Measures approximately 29 inches excluding legs. Wreath is busy with Patriotic themed decorative mesh, American flag wired ribbon, color coordinating glittered ornaments, and topped off with an Uncle Sam hat with Uncle Sam legs hanging from the bottom. Wreath also has silk flowers, stars, and miniature flags.
4th of July Burlap Deco Mesh Wreath
Made from a wreath form, rustic wood star, jute bow, striped burlap, and decorative mesh. Wreath features red and white striped burlap around it, peeking out behind blue burlap with white stars. A large beige jute bow accents the right side and is topped off with a wooden star with an Americana design.
Rustic Americana Patriotic Wreath
Handcrafted from a birch wreath, moss, flag, berries, and artificial greenery and florals. This 18 inch oval wreath features an assortment of wild flowers in red, white, and blue. Tea stained American flag hangs from center off to the right for a great look.

(Visited 2,589 times, 1 visits today)