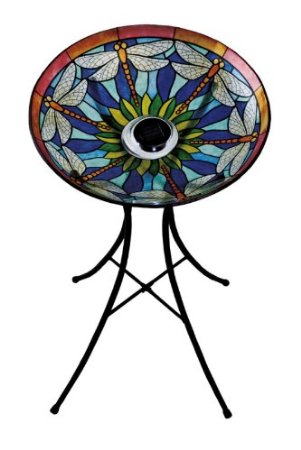 Themed garden decor is very popular and one of the most delightful to create is a dragonfly themed garden.  These pretty creatures capture the imagination for their delicacy and beauty. On this page you will find a selection of garden accessories all featuring these charismatic insects. There are dragonfly fountains, dragonfly stepping stones, dragonfly solar lights, wind spinners and dragonfly garden stakes.
If you are buying a gift for someone who loves dragonflies and loves their garden this is the perfect place to do your online shopping.and if you want to attract the real thing into your garden, follow the links at the bottom of the page.
Featured here: Evergreen Garden,Glass,Bird Bath Solar, Tiffany, Dragonfly
Dragonfly Fountains
Dragonfly Dripper/Fountain – Copper, for Birdbath/Pond
Whitehall Products Dragonfly Birdbath and Pedestal – Verdigris
Dragonfly Birdbath Small (1 pc)
Dragonfly Serenity Lit Glass Outdoor Water Fountain
Dragonfly Stepping Stones
Spoontiques Dragonfly Welcome Stepping Stone
Spoontiques Dragonfly/Welcome Stepping Stone (Discontinued by Manufacturer)
This cute stepping stone will provide a warm welcome to your visitors.
It is hand sculpted of resin then hand painted.
Perfect for use as a stepping stone or as a wall hanging.
Spoontiques Dragonfly Glow Stepping Stone
Dragonfly Wind Spinners
Next Innovations Kaleidoscope Dragonfly Wind Spinner
eye-catching garden decorative item
Wind spinners live up to their name and change shape when they catch the wind. They are perfect for creating movement in the garden.
Next Innovations EKMDRAGONFLYBL Blue Dragonfly Kaleidescope Eycatcher, Medium
This is a beautiful piece of garden art that anyone would love to receive as a gift. The metal spinner features a delicate dragonfly that will spin in counterpoint to the blades when the wind blows. It measures around 1 inches to 12 inches. Made in the USA.
Pretty Dragonfly Spinners
wind spinners
Iron Stop Designer Gazing Ball Dragonfly Wind Spinner D152010
Iron Stop Designer Animated Dragonfly Wind Spinner DA17010
Iron Stop Designer 3D Dragonfly Wind Spinner
Iron Stop Animated Dragonfly Wind Spinner
Dragonfly Garden Lights
Echo Valley Illuminarie Dragonfly Stake
great gift idea for garden lovers
Echo Valley 4204 Illuminarie Dragonfly Stake
This is a delightful garden light from Echo Valley. The pretty dragonfly perches on a globe and inside the globe are crystals that capture light energy during the day so the ornament gives off a sloft glow for up to 4 hours after dusk. Since these are made from hand-blown glass, no two will ever be exactly the same. Us in the garden or add it to a flower container for a great effect.
Solar Powered Dragonfly Lights
Mr. Light 44253 Solar Dragonfly
Dragonfly Garden Accessories
Dragonfly garden accessory
balance buddy
Red Carpet Studios Balancing Buddies Yard Art, 42-Inch Tall, Dragonfly
This delightful garden decoration features a dragonfly delicately balanced on this stake. The balance buddy will move with the wind bringing interest and movement into your garden. This yard art is made of metal with some stone accents. The 42 inch stake is easy to insert anywhere in your garden.
Dragonfly Garden Stakes
Red Carpet Studios Rustic Element Balancers, 32-Inch Tall, Dragonfly
Continental Art Center CAC80208D Dragonfly Garden Stake
Ancient Graffiti Dragonfly Duo Short Plant Garden Stake
Dragonfly Garden Flags
Premier 51032 Garden Illuminated Flag, Dancing Dragonflies, 12 by 18-Inch
Premier Kites 51802 Garden Brilliance Flag, Dragonfly Duet, 12 by 18-Inch (Discontinued by Manufacturer)
Premier Kites 51788 Garden Brilliance Flag, Lacey Dragonflies, 12 by 18-Inch
Premier 51222 Garden Brilliance Flag, Dragonfly Delight, 12 by 18-Inch
Premier 51321 Garden Brilliance Flag, Dragonfly Haven, 12 by 18-Inch
Get bargains on dragonfly garden accessories on eBay
[phpbay keywords="dragonfly garden" num="5″ siteid="1″ sortorder="BestMatch" templatename="default" paging="true"]
How to Attract Dragonflies to Your Garden
More places to find dragon themed garden ideas.
An explanation on how to attract dragonflies to your backyard habitat.
A small pond, coupled with the right habitat conditions, will help you attract dragonflies and damselflies to your garden
The experts at HGTV.com show how to invite dragonflies into the garden.
How to Attract Dragonflies. Dragonflies, which are large insects in the Odonata family, are sought after by property owners because they as beneficial insects that are attractive and fun to watch. Both the adult dragonflies and the…
How to create the right habitat for dragonflies.
The experts at HGTV.com show how to invite dragonflies into the garden.
(Visited 960 times, 1 visits today)