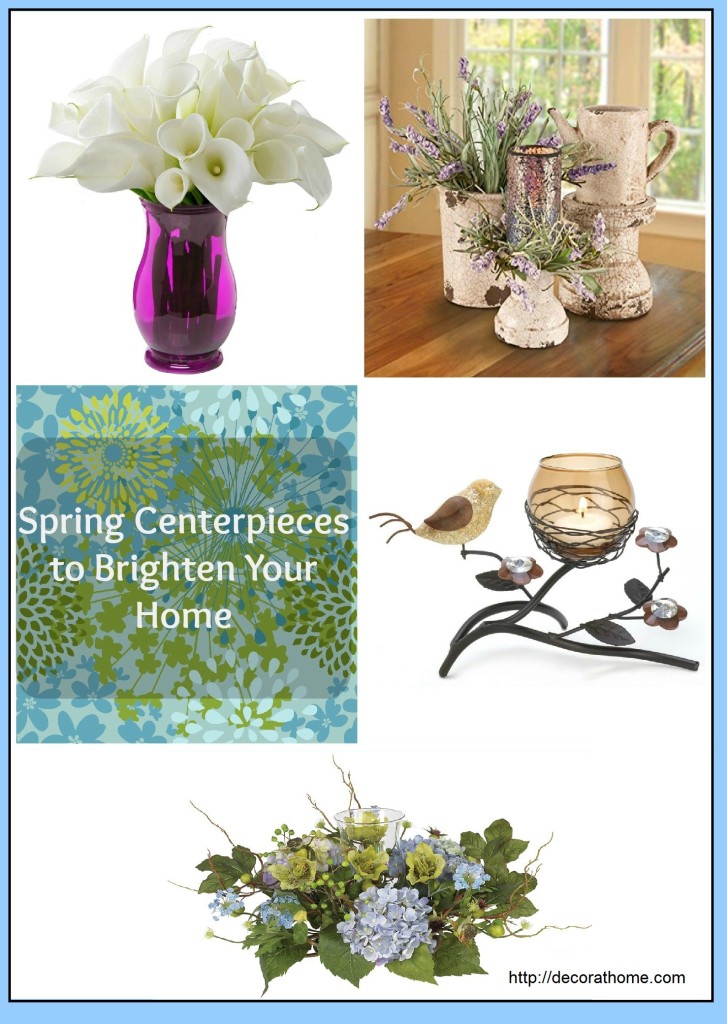 Spring is a time of renewal, of leaving the gray days of winter behind and looking forward to brighter, sunny days with colorful trees and flowers in bloom all around. Spring brings to mind thoughts of butterflies, flowers, birds, and bright colors. To bring a little bit of spring into your home, try using a colorful centerpiece to liven up your table. Here are some cute ideas for spring centerpieces offered from Amazon, as well as a few really great do it yourself centerpiece ideas and tutorials for creating your own table decor to brighten your home.
Butterfly Sparkle Mini Foil Cascade Centerpiece
As far as spring centerpieces go, you can never go wrong with butterflies. This cute butterfly centerpiece would look good at a party table or on the dining room or coffee table. Colorful hues of purple, pink, orange, and yellow remind us that winter is over and spring has arrived. This is an easy to assemble piece with tiers of foil ribbons, die-cut flowers, and a cube base. When assembled, piece measures 10 inches by 10 inches tall, with base measuring 3.75 inches.
 Creative Converting Butterfly Sparkle Mini Foil Cascade Centerpiece
Orange and Yellow Daisy Mini Flower Candle Rings
Sure to brighten up your table, this daisy candle holder captures the bright colors of spring and also adds ambience. Garden style candle wreath comes in shades of orange, yellow and green daisies tucked in throughout. The candle wreath is 15″D and fits a 6″ candle (not included). The candle wreath is the size of a small wall wreath and can be used as such. These wreaths have all wired stems and will require some very basic shaping upon arrival.
 Orange and Yellow Daisy Mini Flower Candle Rings
Partridge Branch Motif Tealight Candle Holder
What better way to remind yourself that spring is here that to decorate your table with this lovely bird nest centerpiece? Made from iron, polyresin, acrylic, and glass, this piece is shaped like a branch with leaves and flower blossoms. A bird sits on a small branch and the nest holds a round glass candle holder which holds a tealight candle. The entire piece is done in warn earth tones to blend well into any decor. Centerpiece measures 8.8 inches by 4.8 inches by 4.8 inches.
 Gifts & Decor Partridge Nest Branch Tealight Candle Holder
7 Inch Royal Purple Glass Orchids Centerpiece
This beautiful vase is made from 100% recyclable glass in a beautiful purple jewel tone color that just shouts "spring". Features graceful curves that look stunning when filled with flowers or used as a candle holder. Place a bouquet of spring flowers in the vase for use as an attractive floral centerpiece on the dining table, fireplace mantel, or anywhere else in the home that needs some brightening. Vase measures 7 inches high and 4 inches in diameter.
 7 Inch Royal Purple Glass Orchids Centerpiece
Hydrangea Candelabrum Decorative Centerpiece
This is both an elegant and functional piece that features a lovely blue hydrangea arrangement along with green foliage and flower buds. Glass candle holder is in the middle of the centerpiece. Flowers and foliage look very realistic, so it feels as if you're bringing a touch of spring right into the home. Piece measures 18 inches by 16 inches by 9 inches.
 Hydrangea Candelabrum Decorative Centerpiece
DIY Glowing Spring Centerpiece for under $25
Interested in creating your own spring centerpieces? This tutorial video shows you how to create a lovely spring table centerpiece using a large cylinder vase, a smaller cylinder vase to go inside of the larger one, a pillar candle, and fresh flowers. Super easy to make, and the look can be changed whenever you feel like it by adding new fresh flowers.
[youtube]https://www.youtube.com/watch?v=SoQ4PmXK_p0[/youtube]
Making A Spring Centerpiece (DIY)
Create this beautiful centerpiece with an iron candle holder, artificial pastel eggs, fuzzy chicks, polished river pebbles, brown excelsior, piece of burlap, and craft moss. Items are used to create the look of greenery with bird nests, birds, and eggs. Clear glass pillar candle holders are used to hold river pebbles and water. Add cut fresh tulips to candle holders to create lovely decoration that brings in all the elements of spring and nature. This would be a perfect table accent for Easter, or really just for any spring day.
[youtube]https://www.youtube.com/watch?v=SRBQ1BumLAk[/youtube]
Shabby Chic Candle and Earthenware Table Centerpiece
This is a three piece set that features one ceramic water pitcher, one ceramic pedestal, and one ceramic pot. Set also includes four 18 inch lavender sprays, one 4 inch lavender flower candle ring, one LED mosaic glass/wax candle and two C batteries. LED candle can be set with an eight hour timer and gives off pretty purple, silver, and green flickers. Pitcher measures six inches, pot measure seven inches, and pedestal measures four by five inches. Makes a great accent piece for a large dining room table or fireplace mantle. Fits in perfect with any vintage or shabby chic style decor.
 Lavender Garden – Shabby Chic Candle & Earthenware Table Centerpiece
Peony Centerpiece Silk Flower Arrangement
This colorful centerpiece features beautiful plush, pastel petals, foliage, and delicate buds. Peonies come in a variety of springtime colors such as orange, white, peach, pink, and purple. Flowers sit on top of an arrangement of intertwined twigs. Piece measures 34 inches long. Brings a touch of spring into the room and compliments any decor.
 Peony Centerpiece Silk Flower Arrangement
DIY Ideas for Table Centerpieces : Home Staging
This video tutorial gives suggestions for creating spring centerpieces based upon the size of the table you're working with. The decorator also offers suggestions about how to place the centerpiece and arrange it so everyone around the table has a nice view. Several ideas are shown for mixing and matching various pieces to create a perfect tablescape that includes elements of nature and other objects. Using height variations in your centerpiece is also discussed, along with grouping several items together to create a centerpiece. Keep in mind that a few of these items used are fall themes, which could easily be substituted with spring items such as bird houses, bird nests, etc.
[youtube]https://www.youtube.com/watch?v=0GSElWZnSog[/youtube]
(Visited 240 times, 1 visits today)