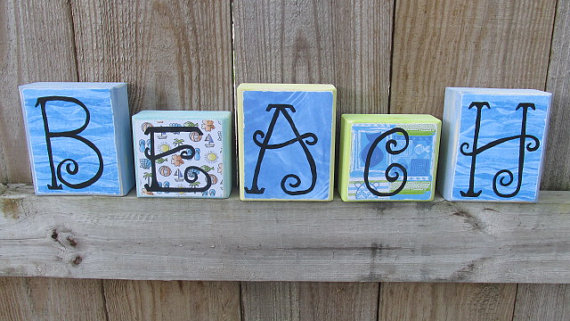 When decorating a beach house, many people choose items that are related to the beach, ocean, or nautical type themes. Etsy offers a variety of handmade beach house decor items that you can't find anywhere else. Choosing handmade decor makes your beach house even more special than it already is by adding a touch of unique charm you won't find in a retail store. Here we look at some unique beach house decor items offered by Etsy shop owners. Choose from everything from wall decor to wreaths and throw pillow covers to give your beach house a great look and feel.
Life Is Short, Buy The Beach House Sign
This is a hand made, made to order item constructed from wood, acrylic paint, and jute. Sign bears the saying "Life is short, buy the beach house", and can be ordered in two sizes of 8 inches by 18 inches, or 12 inches by 24 inches. Background color choices include basic black, royal blue, nautical navy, ocean aqua, beach bum blue, and shoreline green. Sign features a distressed and weathered appearance and hangs with a jute cord. Perfect beach house decor that lets everyone know you're glad you made the investment.
&
Beach Wall Clock
This is a made to order, hand made clock that features a lovely beach scene with sand, blue sky, and small ocean waves. Clock measures 10 inches in diameter and is 1.75 inches in depth. Face is made from high-impact Plexiglas and is easy to hang using the backside hook. Uses one AA battery, not included. Clock face contains no actual numerals, you just tell the time by the positioning of the hands.
&
Beach Block Set
This is a set of five wooden blocks of various sizes that are decorated using acrylic paints and scrapbook papers. Block set contains the letters B, E, A, C, and H to spell out the word Beach. Blocks look great when displayed on a shelf or mantle and make perfect beach house decor.
&
Gone To The Beach Throw Pillow
Attractive pillow cover comes in your choice of over thirty color options. Available in sizes 16 by 16 inches or 18 by 18 inches. This is a hand made item made from organic cotton sateen and eco-friendly water based inks. Pillow cover has an invisible zipper and sports the phrase "Gone to the Beach". Slip cover over any throw pillow for a great decorative beach house accent.
&
Beach Wreath, Summer Shell Wreath, Sand dollar – Starfish Wreath
A great wreath to use either indoors or outdoors as a beautiful decorative accent for any beach house. Wreath can be used on front door, hung from a fence, or displayed on a mantel, wall, or shelf. Handmade from a grapevine wreath, shells, sheer aqua ribbon, raffia, shells, and a starfish. A small sign hangs from the inside of the wreath that says "Beach". Circular wreath is decorated with natural materials and shells, and the ribbon color gives it a great beach feel. Available in a 12 inch, 14 inch, or 18 inch diameter.
&
Large Mosaic Mirror in Aqua, Blue, Copper
Beautiful hand made mirror is constructed from glass, mirror, mosaic tiles, and grout. Can be made to order in sizes 17 by 19 inches, 18 by 24 inches, 20 by 28 inches, 24 by 30 inches, and 30 by 36 inches. Decorative mirror shimmers in the light and features a beautiful mosaic in the perfect beach house color scheme of white iridescent, white glass, aqua ice, metallic white pearl, light aqua FL glass, metallic nude, metallic birch, fawn, and cornsilk. Makes a stunning focal point for any room.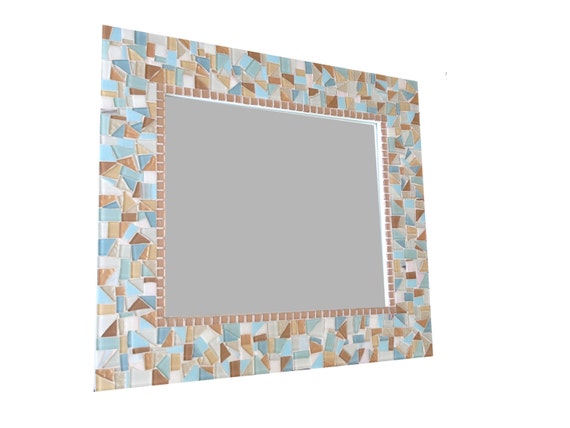 Large Mosaic Mirror in Aqua, Blue, Copper

&
The Sand May Brush Off Picture Frame
This hand made frame measures 12 by 12 inches with a 4 by 6 inch area for displaying a photo. Frame comes with glass and backing. Made from a wood panel, stain, and a professional print. Front of frame displays the words " The sand may brush off, the salt may wash clean, the tans may fade, but the memories will last forever". Makes a perfect accent to display in any beach house and allows you to display your special memories you've shared there together.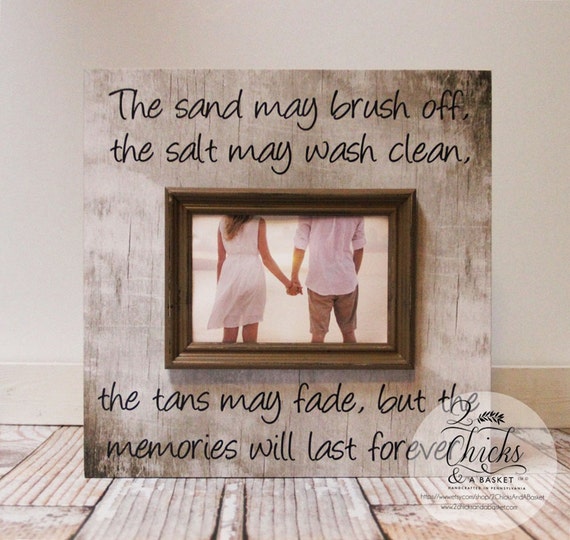 The Sand May Brush Off Picture Frame

&