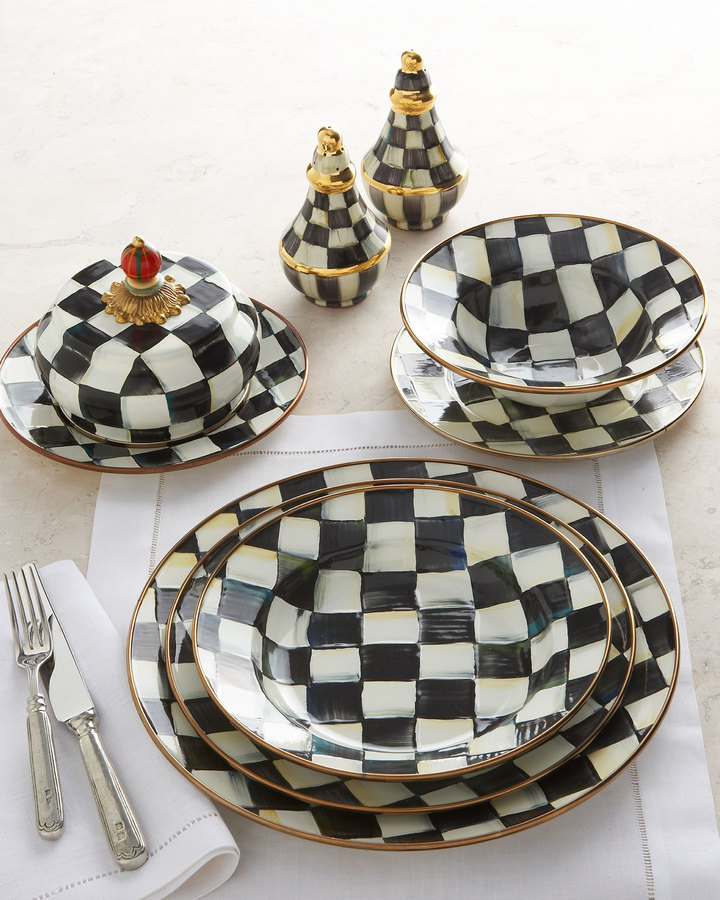 If you like a traditional style, you can certainly apply it to your black and white kitchen decor. With a few accessories, you can change the mood of your entire kitchen.
Kitchen decor items can be both decorative and practical at the same time. Items such as teapots, canisters and kitchen towels sit out in the open and give your space personality and style. These Mackenzie Childs items shown below are a lot of fun in black and white and stand out against any color decor.

Here is where you can get these great items!
MacKenzie-Childs Flower Market Charger • Mackenzie Childs • $48
MacKenzie-Childs Cocktail Napkins • Mackenzie Childs • $6.95
MacKenzie-Childs Courtly Check Charger Plate • Mackenzie Childs • $50
MacKenzie-Childs Courtly Check Cookie Jar • Mackenzie Childs • $56
MacKenzie-Childs Medium Butterfly Garden Canister • Mackenzie Childs • $80
MacKenzie-Childs Black & White Kitchen Linens Set • Mackenzie Childs • $88
MacKenzie-Childs Flower Market Black Utensil Holder • Mackenzie Childs • $72
MacKenzie-Childs Courtly Check Round Table Skirt • Mackenzie Childs • $395
MacKenzie-Childs Courtly Check Apron • Mackenzie Childs • $78
MacKenzie-Childs Courtly Check Teapot Set • Mackenzie Childs • $156
MacKenzie-Childs Courtly Check Small Colander • Mackenzie Childs • $50
MacKenzie-Childs Courtly Check Travel Cup • Mackenzie Childs • $25
MacKenzie-Childs Large Flower Market Canister • Mackenzie Childs • $84
MacKenzie-Childs Parchment Check Cookie Jar • Mackenzie Childs • $56
MacKenzie-Childs Piccadilly Cookie Jar • Mackenzie Childs • $195
MacKenzie-Childs Small Flower Market Canister • Mackenzie Childs • $76
MacKenzie-Childs Courtly Check Utensil Holder • Mackenzie Childs • $72
MacKenzie-Childs Small Flower Market Colander • Mackenzie Childs • $52
MacKenzie-Childs Courtly Check Sugar Bowl • Mackenzie Childs • $65
MacKenzie-Childs Small Parchment Check Canister • Mackenzie Childs • $76
MacKenzie-Childs Courtly Check Canisters • Mackenzie Childs • $76–84
MacKenzie-Childs Tulip Tea Kettle Dish Towel • Mackenzie Childs • $12
MacKenzie-Childs Courtly Check Spoon Rest • Mackenzie Childs • $98
MacKenzie-Childs Courtly Check 4-Cup Enamel Teapot • Mackenzie Childs • $90