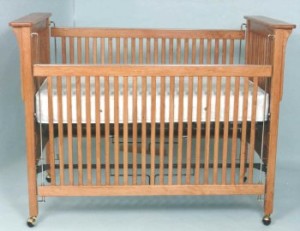 If you happen to be expecting a baby or grandchild and are pretty handy with do it yourself projects, consider the idea of building your own crib. A DIY crib can be made to look just like one purchased at a baby specialty store, or the design could come solely from your own imagination. The main thing to take into consideration before beginning this type of project is safety, as you want to make this piece of furniture as safe as possible. By researching some of the common flaws found in manufactured baby cribs, you can avoid these pitfalls that have caused so many baby furniture makers to have to recall cribs and other items due to safety hazards.
You may be asking, why build your own crib? There are several reasons why someone might choose to do so. First and foremost, if you do it yourself, you can guarantee that only the top quality materials are used. This guarantees not only a sturdy product, but a long lasting finished product that will stand the test of time and serve to hold many sleeping babies through the years. You can also guarantee, provided you are skilled enough to tackle this project, that the craftsmanship is superior to that of a manufactured, store bought crib. Another reason is that the cribs sold in boxes at popular retail chains always seem to have directions that are vague and extremely hard to follow. There usually seems to be some missing piece of hardware too, which is always disturbing, especially when building a baby crib. Perhaps the very best reason to build your own crib is because it is an act of love. The time and effort that goes into this DIY project comes from the love in your heart, and the recipient of the crib will be touched that someone went to the effect of making this piece of furniture that is sure to become a treasured family heirloom.
Having an heirloom crib in the family is truly special and really symbolizes the love of a family through the generations. Imagine having your newborn baby sleeping in a crib that was handcrafted by their great grandfather for their grandmother, and so on. Imagine over the years how many members and generations of the family have slept, or will sleep in this particular crib. Imagine the special memories and stories the family have gathered through the years about the crib, along with treasured family photos of the many babies enjoying their nap time in it. As you can see, the sentimental value alone makes the project completely worthwhile. Your efforts will not go unnoticed or unappreciated.
If you plan on designing your own DIY crib pattern, make sure that the slats are spaced safely apart to avoid little heads or feet getting caught in them. Also, make sure to use safe products that can be used around an infant that may be teething on the crib when they get a bit older, such as plastic teething guards. If you're not quite ready to design the plans for the crib, there are patterns and plans that can be found online. This video is also a great introduction.

For a great set of building plans for the do it yourself crib project, the Mission Crib Woodworking Plan, Build Your Own Crib plan is available on Amazon.com. This plan is designed by Bob Belke for the American Furniture Design Company, and is a standard Mission style crib that features two sliding sides as well as an adjustable mattress frame. A complete hardware kit for the project, as well as a mattress support, are available for purchase separately from the woodworking plans and instruction manual being offered. This crib project will require a trip to your local lumber supply store or local home improvement center. The finished product will look very much like a crib purchased from one of those expensive baby stores,
and will have a million times more meaning to the recipient.
To make this particular crib, or one like it, you should have the necessary tools on hand before beginning the project. These include a router, table saw or miter saw, clamps, and common hand tools such as screwdrivers, hammer, etc. You also need a tape measure, drill, square, sander, and kreg jig. If you are not purchasing a hardware kit in addition to your woodworking plans, you will also need various sizes of pocket hole screws, screws, small nails, brads, threaded inserts, bolts, mending straps, countersink bit for a drill, sandpaper, wood filler, wood glue, and finishing supplies. You will also need your various pieces of lumber, as well as the plastic teething guards, mattress frame, and mattress. Be sure to have your crib plans in hand and refer to the exact list of hardware and tools that you will for your particular design of crib before going out to shop for these items.
When you decide to build your own crib, you are doing more than just an ordinary do it yourself project. You are creating a beautiful piece of furniture that will also become a lasting piece of family history. After you have used the crib for each of your own children, imagine giving it to each adult child to pass around as their own children are born, with the youngest grandchild always being the one with the crib in their home. As more children are born, it gets passed back and forth so all can use it. If that becomes too complicated, simply keep the heirloom crib at grandma and grandpa's house, there for each grandchild to use when they visit or spend the night. After you have mastered the art of crib making for your own children, you may even wish to make one for each adult in the future, so they each have their own crib made by their parent or grandparent. Each crib will be cherished and become a most prized possession that brings back happy memories for the entire family.