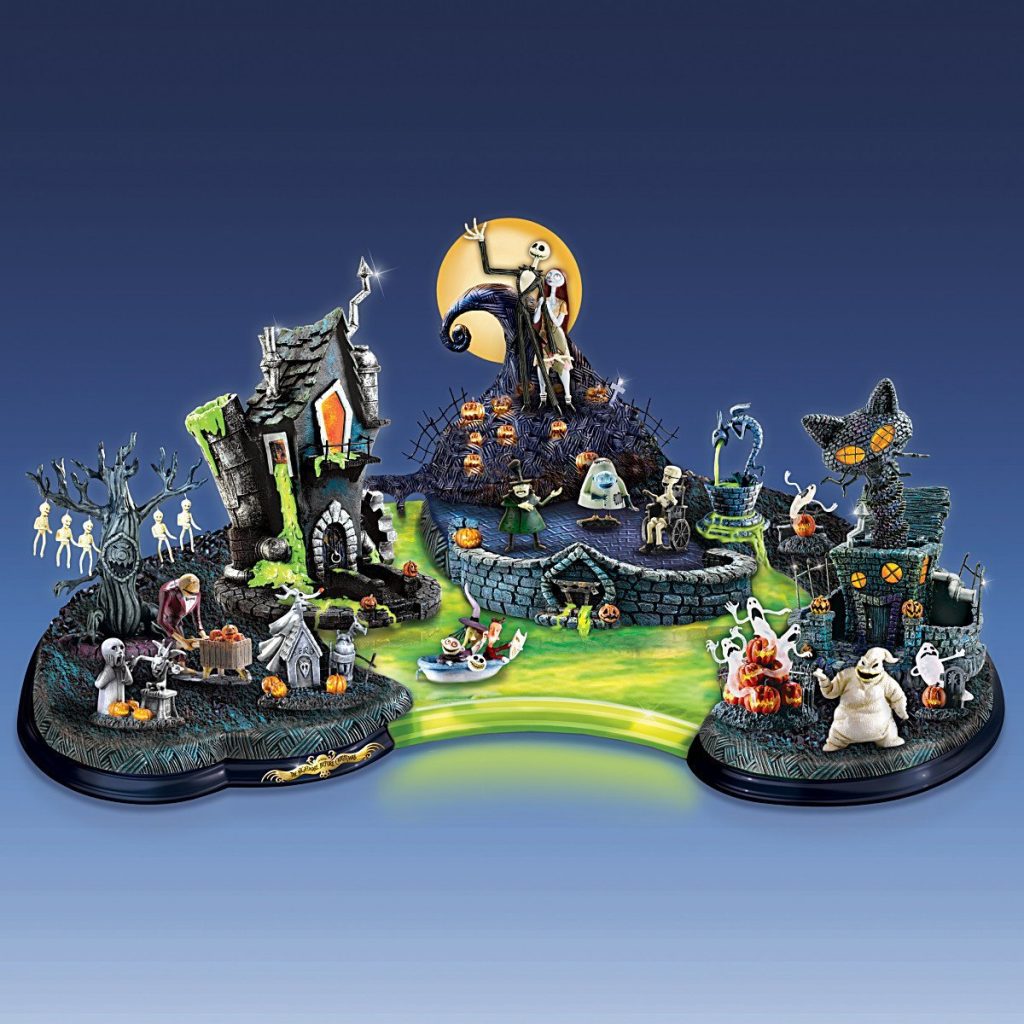 Featured: Nightmare Before Christmas Halloween Town Lagoon Sculpture with Lights and Music by Hawthorne Village
If you're a fan of Jack Skellington, Sally, and the other characters from the 1993 Tim Burton classic film, The Nightmare Before Christmas, you'll be happy to know that there are a variety of unique gift giving ideas that feature this movie theme. From jewelry to household holiday decor, there is certainly something for everyone on your list. Here we take a look at some of the Nightmare Before Christmas gifts available.
Nightmare Before Christmas Halloween Town Lagoon Sculpture with Lights and Music by Hawthorne Village
This great collectible display features several handcrafted buildings from Halloween Town that have a cool black light effect. This item is available from Hawthorne Village and includes separate issues that include both building, figurine, and accessories. As you build your collection issue by issue, you will end up with figurines of Jack Skellington, Zero, Dr. Finklestein, the Mayor and his car, Sally, and the illuminating black light fixtures that make your town stand out from other collectible villages. Village buildings include Jack's house, Dr. Finklestein's Lab, and more. This is a great gift for anyone who collects villages. Makes a great decoration for both Halloween and Christmas. The pieces in this set are suitable for ages fourteen and over.
Tim Burton's The Nightmare Before Christmas Custom Hoodie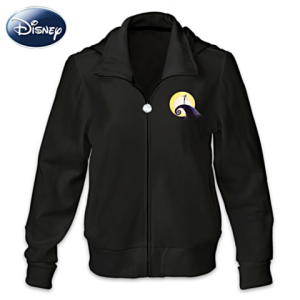 For the female Nightmare Before Christmas fan on your gift giving list, this cotton blend custom hoodie makes the perfect gift. Front designs features the yellow full moon with the Jack Skellington character standing against it. Front zipper also features a Jack Skellington metallic zipper pull. Back of jacket features a colorful design of all of Halloween Town and its characters. Jacket has a soft jersey lined hood, knit cuffs and hem, side seam pockets, and conventional collar. Sizes are available from small to 3X large. Jacket is hand washable. This is a great gift for both Nightmare Before Christmas fans and is also a practical gift for keeping warm and fashionable on chilly days and evenings.
Tim Burton's The Nightmare Before Christmas Quilted Handbag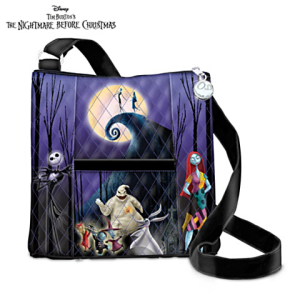 This quilted handbag features a colorful image of the characters from The Nightmare Before Christmas movie, including Shock, Barrel, Lock, Jack Skellington, Zero, Oogie Boogie, and an image of Jack and Sally silhouetted against Spiral Hill. This is the perfect gift for female fans of the movie of all ages, making both a fashion statement and providing a useful handbag, all the while boasting their love of their favorite movie. Handbag is made from high quality soft twill fabric and measures 11 inches wide by 10 and 1/2 inches high. Strap measure 60 inches long and can be adjusted for a proper fit. This crossbody bag also has a metallic Jack Skellington charm hanging from the zipper. Imagine the delight when a true fan opens this attractive bag on Christmas morning!
Tim Burton's The Nightmare Before Christmas Anniversary Set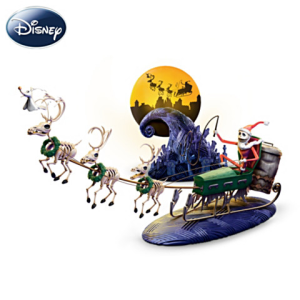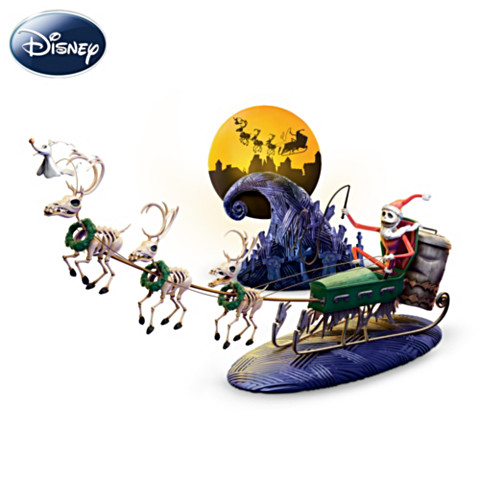 This is s limited edition piece of 1,993 pieces total. One sculpture in this set features Jack Skellington on his sleigh with his skeleteam of reindeer with Zero flying in the lead. The other sculpture features Cemetery Hill with music, and lights that shows a silhouette of Jack in his sleigh flying over Christmas Town. This piece is the perfect addition for anyone who has the black light village Nightmare Before Christmas set, or for anyone who likes to collect and display villages during the holidays. Jack in his Sandy Claws suit driving his green sleigh will bring a touch of whimsy to your holiday decor and makes a great fan collectible piece. Each sculpture is handcrafted from artist's resin and is then meticulously hand painted for accuracy to details. This limited edition is part of the 20th anniversary pieces celebrating twenty years of The Nightmare Before Christmas.
More Nightmare Before Christmas Home Decor Gifts
 Cuckoo Clock: Tim Burton's The Nightmare Before Christmas Wall Clock
 Tim Burton's The Nightmare Before Christmas Rotating Musical Carousel Sculpture: Lights Up
 Nightmare Before Christmas Jack Skellington Glow In The Dark Wall Sculpture
 Disney Tim Burton's The Nightmare Before Christmas Masterpiece Pumpkin Sculpture by The Bradford Exchange