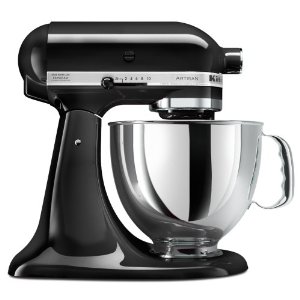 I have a baking specialty, baking biscotti, and recently I broke my third hand held mixer while making biscotti dough, so I decided it was time to upgrade to more heavy duty stand mixer.  One of the problems with making biscotti is that the dough can be very tough to mix, so a mixer needs to have a lot of power, and also be made for mixing cookie dough with strong beater.  In the past, I have worn out the motors of mixers, and broken beaters.
I wanted to have a mixer that would be long lasting and versatile, so that our family would be able to use it for other cooking projects.  My husband likes to make cookies, and I also like to experiment with making fresh hummus, and other dips.  I had been using my Cuisinart, but it is not ideal.
Since I go through hand held mixers so much, I was willing to invest good money in this new mixer, but I also wanted to get a good deal.  After much thorough research, I decided to buy a KitchenAid Artisan 5-Quart Stand Mixer from Amazon.
For those of you who know me well, you would have thought that I would buy this mixer in teal or orange, because I am an artist, and I often do buy items in unusual colors to brighten up a room, but I ended up buying the KitchenAid Artisan Mixer in black because it was significantly cheaper, even though there are some really cool colors I could have gotten.
As I already mentioned, my main concern was having a mixer that I could make endless biscotti with, and this was the primary reason that I bought the KitchenAid Artisan 5-Quart Stand Mixer.  This mixer is a 325-watt mixer with 10 speeds so it has the power to withstand the tough biscotti dough.  In addition, it comes with a flat beater and a dough hook which can both be used for mixing the biscotti dough.  I also love the feature of the tilt back head because it makes it so much easier than my old stand mixer to access the bowl, put in ingredients, and split the dough to press into loaves for baking.
Amazingly enough, the KitchenAid Artisan mixer is pretty enough, even in black, to keep out on my kitchen counter, which means that I use it more, and it is easily accessible.  It is definitely built for tough jobs, but can also make whipped cream easily.  This makes the mixer extremely versatile and also hard to break which is a great feature in a household with two teenagers, one with a propensity to break things.
I used to get a sore arm even when mixing the biscotti dough with a hand held mixer because it was tough to keep the mixer in place when I wanted to get to all parts of the bowl.  The KitchenAid Artisan 5-Quart Stand Mixer not only has the power to hand a double batch of biscotti dough, but it does the work for me, getting to more points on the bowl without tiring my arm out.  It gives a nice even mix too.
I also don't have to worry about breaking the attachments because they are much more heavy duty than the small beaters I had with my other mixers.  There are other additional attachments that you can buy for this mixer from Amazon that do not come with the basic set including a citrus juicer, ice cream maker, food grinder, pasta press, grain mill, rotor slicer/shredder, and extra bowls.
One of the best things you get when you buy any KitchenAid mixers are the support and service of KitchenAid.  KitchenAid is a super company that really stands by its products, and their support department is top notch.  They really take the time to help you work through any problems, or instructions that you do not understand when you first get the mixer.  The most technical detail on this mixer is getting the beater bowl clearance set when you first get it.  But if you can't figure it out yourself, you can call them and they will walk you through the adjustment.  Once the beaters are set correctly, you get perfect mixing.
Another feature that I would like to mention about this mixer, is that it is very simple to attach and remove the various attachements, and to take apart the mixer elements for cleaning.  It is tough to be a neat cook or baker, and mixing cookie dough generally gets it all over the mixer, and the baker.  However, with the 5-quart bowl, that happens less, and the mixer itself cleans up nicely.
In addition to the great price you get for the KitchenAid Artisan 5-Quart Stand Mixer on Amazon, KitchenAid is also offering rebates.  You can get the rebate paperwork when you go onto Amazon to buy the mixer.  A one year KitchenAid warranty comes with the mixer as well.
For more information about the KitchenAid Artisan 5-Quart Mixer, its attachments, colors, and more reviews, you can go directly to the mixer page on Amazon.  This product is definitely a winner for anyone who loves to cook and bake.