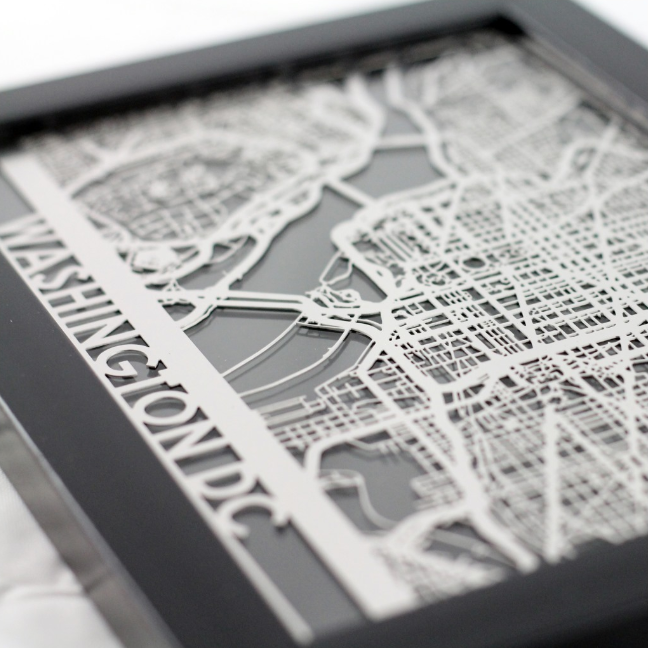 If you are looking for something interesting and a bit out of the ordinary to add to your home's wall decor, consider using unique steel and wood maps. The wood brings somewhat of a natural and outdoor element into the home, while the steel provides a more contemporary look. Choose whichever fits in with your decorating style or take a chance on trying something new.
Custom Wood Map
Choose a wood map in any of the states within the United States to add to your wall decor. These maps are cut in the shape of the specified state from a rustic looking piece of wood. A heart can be added to a particular location within the chosen state. Choice of heart in a whole or distressed look, or you can order with no heart. (Be sure to select desired heart option when ordering.) Each map is created from local milled pine wood from Maine. The artist does a hand painted , water based stain over a dark stained wood and hand distresses the item. It is finished with a hand rubbed finishing paste for preservation. Each state map has the approximate dimensions of 10 inches by 10 inches and is around 1.5 inches deep. Includes hanging hardware. Would look great in a den or family room or perhaps above a fireplace mantel.
10×10 Distressed Wood Pennsylvania Map

Woodcut Maps
This map can be made to represent Chicago, IL or nine other locations including San Francisco, CA, New York, NY, Seattle, WA, Boston/Cambridge, MA, Paris, France, Hawaii, Minneapolis/St.Paul, MN, Washington DC, and Los Angeles, CA. Product can be customized by choosing from twelve wood colors to represent landscapes, twelve wood options to represent parks, twelve wood options to represent roads, twelve to represent parks, and twelve to represent water. Frames choices include light, medium, auburn, and dark, or no frame. Looks great on any wall decor and adds a unique focal point to any room. Makes a great addition to any room where the family gathers.
Natural Birch Plywood Beer Cap Map of USA
This is a custom made, laser cup map of the USA made from one quarter inch birch plywood. Map measures approximately 24 inches by 15 inches. Securely holds 94 of your favorite beer caps. Comes pre-drilled and ready to hang. This would make a terrific addition to your home wall decor, especially when displayed in a bar area. Makes for a lively conversation piece while enjoying a brew with your buddies. Available in either natural or dark walnut stained finish.
Natural Birch Plywood Beer Cap Map of USA

5″ X 7″ Stainless Steel Cut Maps
Each map is cut from a single piece of 5 inch by 7 inch stainless steel and comes ready to display is a classic black frame. There are 66 locations to choose from, including Atlanta, Amsterdam, Baltimore, Cleveland, Denver, Edmonton, Hong Kong, Los Angeles, and more. These maps have a unique look that fits in well with almost any home decor. Display the location of your choice, perhaps the state you live in, the place you honeymoon, or a place you plan to someday visit while on vacation. Would look great in a home library or study, den, or family room.
5″ X 7″ Stainless Steel Cut Washington D.C. Map

Custom Wooden Wedding Guestbook
This is a very unique wood map that wedding guests sign with a felt pen instead of using a traditional paper guest book. Choose from any state in the United States. The state will measure approximately 24 inches and is around one half inch in depth. Depending upon your chosen state, either metal "O" rings or sawtooth hangers will come with the product for easy hanging. A wooden heart is placed over the area of your choice (most likely the place you will marry or reside)with the hear customized with the couple's initials and wedding date.This is a handmade item consisting of wood, paint, and the artistry of Grace Graffiti. Choose the custom text for the first and second initials to be included on the heart, and choose the custom date. Choose heart color from 43 color options, and select text color from among 47 choices. Select your state and pick from 43 color options for the wood, then choose the location for the heart to be placed. This will make a fabulous wedding keepsake that you will proudly display in your home and treasure for years to come. Use as wall decor in a prominent place in the home for all to see, in a living room or above a fireplace mantel. Makes a great focal point and conversation piece.
Custom Washington State Wooden Wedding Guestbook