For most of us, there comes a time when it seems as if we've outgrown our homes because every closet is bursting at the seams and there is clutter in almost every room. Does this mean you're a bad housekeeper? Usually not, it just means that over the years you've accumulated more and more possessions that are taking up valuable space. This can be especially true when raising children, as they are constantly outgrowing both clothing and toys, which continuously have to be replaced with age- and size-appropriate items. Even with adult-only households, every year we add clothes to our wardrobes which we no longer wear, and acquire a lot of books and magazines. Over time, this can make your home cluttered to the point where you feel like you no longer have enough space. There are some simple and effective ways to reduce the clutter, while at the same time putting cash back in your pocket. Here we offer some ideas on organizing and decluttering the home to help you reclaim your space.
Donations
Donating is a logical choice for clearing out many items, especially clothing. Thrift stores such as Goodwill are happy to accept a variety of items and many towns have drop boxes located in parking lots of businesses that will take clothing and shoe donations. Even worn out rubber soled shoes are generally accepted, because the rubber can be recycled to make soft rubber, kid-safe playground surfaces. Consider church organizations and domestic violence shelters too, as they may have need for clothing in various sizes for both genders. While you won't make money by decluttering this way, you can claim donations as tax deductions. This is a great way to provide clothing to those in need and will also make extra room in your closets and dresser drawers.
Sell Your Used Clothing
Clothing that is no longer needed and just taking up space is a great way to earn some extra cash. By holding a garage sale, you can unload these items and make a few dollars in the process. You might also want to attempt selling your items through a consignment shop. If going this route, make sure to check with the store on their policies, as well as inquire what sizes and clothing brands they are willing to sell.
You can also sell unwanted clothing online. Using auction sites such as Ebay has proven to work well for many people, especially when selling brand name popular clothing items. Craigslist is also another popular online option for selling just about anything and everything. There are also several relatively new sites that allow users to sell clothing online from the comfort of your own home.
ThredUp accepts baby clothes, kids' clothes, women's clothing, shoes, and used purses. With this site, the user requests a "clean out bag" with a pre-paid shipping label that is sent to your home. Simply fill with your unwanted clothing items and send it back for review and payment. You also have the option of donating your earnings to charity.
Tradesy.com requires a bit more work on the part of the seller and offers payment in the form of Tradesy cash, or pay an extra fee to have the funds sent to a bank account or PayPal. This site deals with higher end merchandise such as designer brands.
Swap.com allows sellers to send in a box of items and accepts kids' clothing and a variety of other items. This site also offers a guarantee that if your items don't sell within 45 days, they will buy them from you.
Make Money from Your Old Books
If you're an avid reader, chances are you've accumulate quite a few books through the years. If you're looking to clean out your bookcases as part of your organizing and decluttering efforts, Bookscouter.com provides a great place to sell those used books and textbooks and make some cash. The site allows sellers to compare prices of 57 different book-buying websites so that you can determine where you'll get the best price for your books. Below you can see an example of a book that I looked up and some of the results from the listed sites.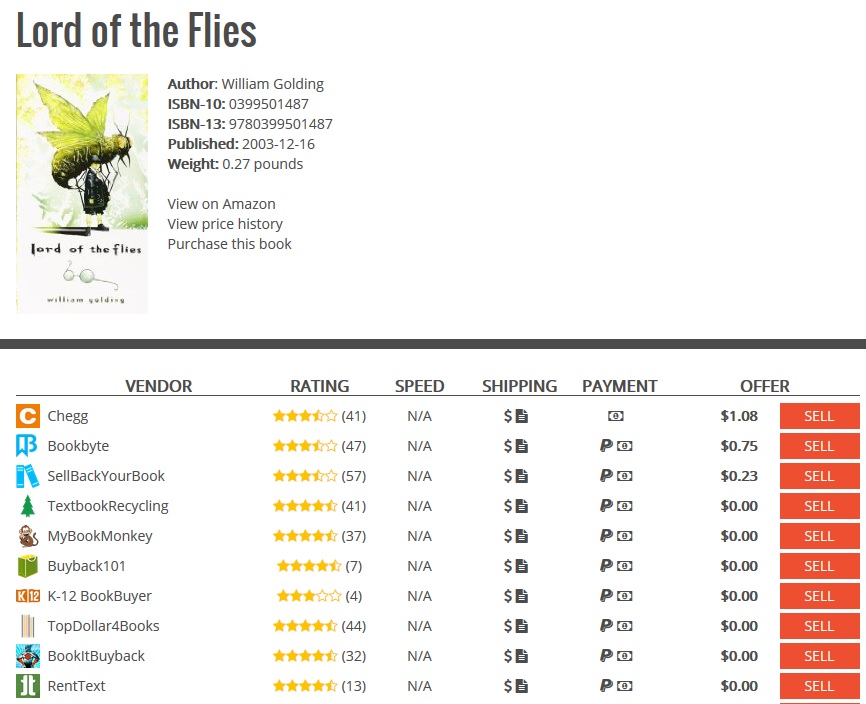 Bookscouter also has a sister site called Gadgetscouter. When you go to Bookscouter, you can see a link for Gadgetscouter in the sidebar. You can look your old gadgets up to see if anyone is buying them.
Garage Sales
Garage or rummage sales are not only a great way to sell old clothing, but everything else as well. Garage sales can be a great way to sell unused furniture, household goods, knick knacks, toys, games, appliances, computers, clothing, games, etc. If you are advertising larger ticket items, make sure to place an ad in the local paper that lists those. For example, list individual items such as "refrigerator, washing machine, clothing, and lots of miscellaneous." Using keywords will attract buyers searching for that particular item. Keep prices on common items reasonable so that they will sell and be willing to negotiate.
Craigslist and Newspaper Ads
If you have larger items to sell, such as a television or piano (just a couple of examples), and don't wish to hold a garage sale, advertise these items on Craigslist or place an ad in the local paper. Placing items under the proper category will attract interested buyers quickly and get the unwanted item out of the house as soon as possible. These items are generally anything too big to ship such as a couch. Make sure to get your payment in cash before the person takes the item.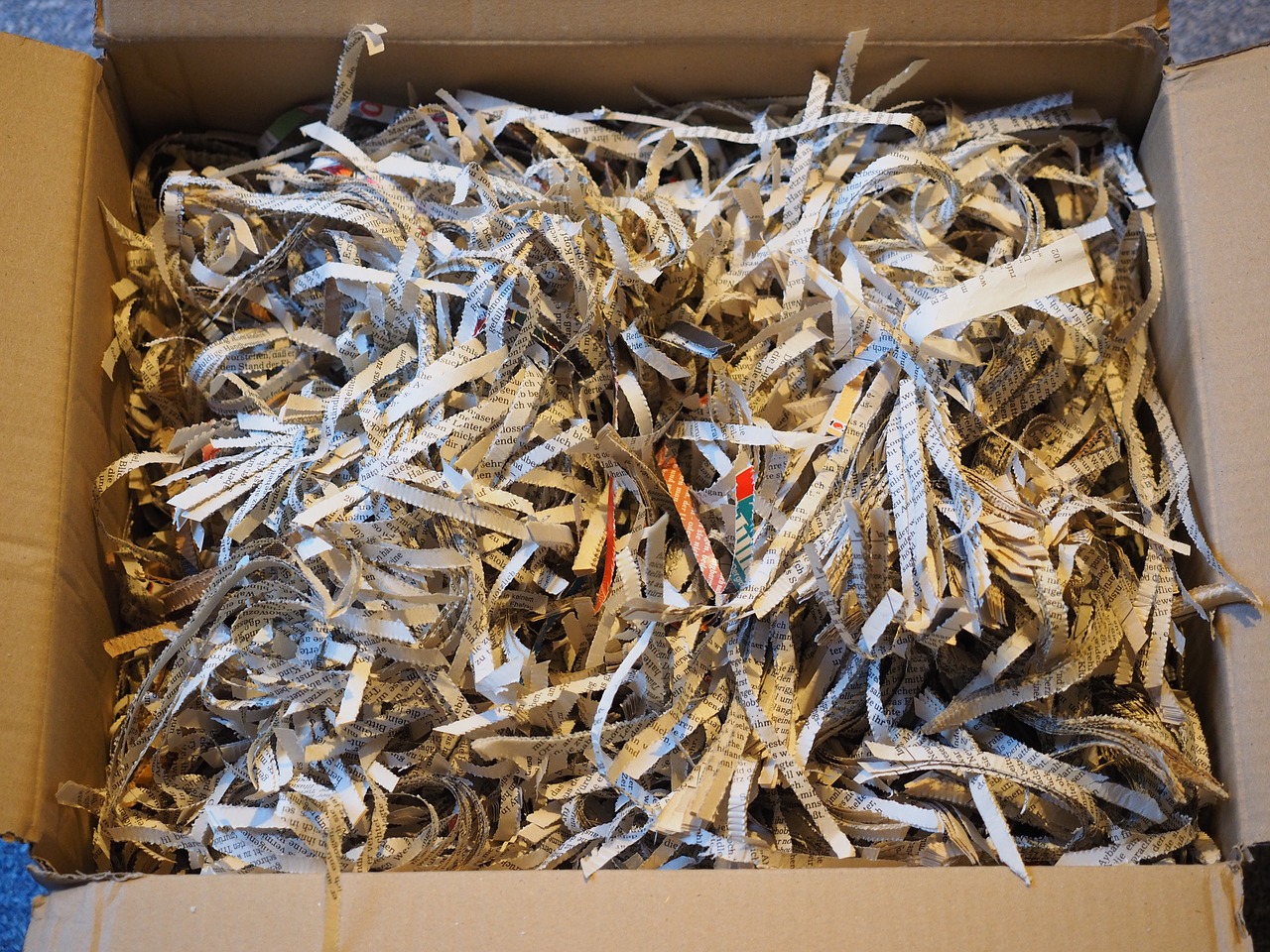 Recycle the Junk
Items such as old magazines, junk mail, and newspapers really pile up quickly. As part of your organizing efforts, every few weeks, go through all the junk mail, old bills, magazines, etc. and determine what you no longer need. Investing in a paper shredder is a great idea so that you can safely place these papers in the recycling bin. If your neighborhood does not have regular recycling pickup, check to see if there is a recycling facility where you can drop off these unwanted papers.
Participate in Recycling Programs
Items such as old tires and car batteries are not good to leave lying around and can really take up a lot of valuable space in the garage or shed. Many towns periodically hold an event where citizens can take and drop them off for proper recycling at no cost. Take advantage of these events to clear out a lot of clutter.