Collectible Limited Edition Swarovski Christmas Ornaments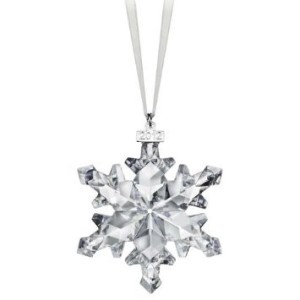 There aren't too many things more beautiful than the sparkle of real Swarovski crystal, and that is doubly true when you are talking about Christmas ornaments. The company are probably the most famous for making several regular Christmas ornaments, and then they produce limited edition ones for Christmas . Each year they come out with just a few unique ornaments with the year engraved and added especially for collectors.
My favorites are the yearly Snowflake ornaments, so I have highlighted them here. These are limited edition which means once they are sold out, you can only buy them from outside distributors or collectors. These are truly stand-out items, that add so much to any Christmas tree, and can be passed down as keepsakes for generations.
The Swarovski 2012 Annual Edition Crystal Snowflake Ornament is an outstanding addition to the collection. And you don't have to pack it away after Christmas. Just hang it from an ornament stand near a window to admire the prism like qualities of the crystal. The cut crystal facets of Swarovski crystal make it almost wondrous to look upon, bringing a smile to everyone who sees it.
2012 Annual Edition Crystal Snowflake Ornament
Swarovski 2012 Annual Edition Crystal Snowflake Ornament
2011 Annual Swarovski Crystal Snowflake Ornament
Swarovski 2011 Annual Edition Crystal Snowflake Ornament
Swarovski Crystal Angel Collectible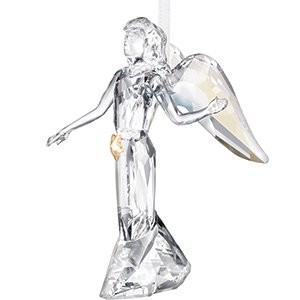 In addition to the annual limited edition snowflake ornament collection, Swarovski also makes an annual collectible crystal Angel ornament collection. These ornaments blend well with the snowflake ornaments. Each ornament shows an angel in a completely different style and position, some are flying, some standing.
These are specifically Swarovski Christmas angels, and to the right you can see a picture of the Swarovski 2012 Angel Ornament Annual Edition.
Limited Editions for the last few years
Swarovski Annual Edition 2014 Crystal Snowflake Ornament
Swarovski 2013 Annual Edition Crystal Star Ornament
Swarovski 2014 Annual Edition Ball Ornament
Swarovski Crystal and Gold Star Tree Topper
To top off your Swarovski decorated Christmas tree, you may want to add the Swarovski crystal and gold star Christmas tree topper. This Christmas tree topper can also be used as a freestanding decoration with a stand.
The Swarovski tree topper creates the illusion of shooting stars creating sparkling light in several directions, which is perfect for a twinkly light filled tree topper. The Swarovski crystal and gold star tree topper gives you the magical feeling that you should have on a Christmas Eve.
[phpbay keywords="swarovski limited tree topper" num="6″ siteid="1″ sortorder="BestMatch" templatename="default" paging="true"]
More Swarovski Crystal Ornament
Swarovski 2010 Annual Edition Crystal Snowflake Ornament
Swarovski 2006 Annual Snowflake / Star Christmas Ornament
Swarovski Crystal Ornaments Make Great Gifts
Ornaments made by the Swarovski company make terrific Christmas gifts for anyone that you know who likes crystals, Christmas, sparkle, or glass. These are collectible ornaments whose value continues to grow with age, and that you can easily enjoy for years to come.
Some collectors keep their collection in a special cabinet all year, then take them out to decorate their Christmas tree. After all, why box them up when you can look at them all year round?
These collectibles come very well packed for shipping or gift giving. You can feel safe packing your gift in your suitcase to take out of town or shipping it to a family member or friend. Each gift is packed in a special box or tube that is lined with a dense foam shaped to fit the ornament or figurine. Swarovski is truly a company that you can trust with the exquisitely beautiful designs that they make.
Older Swarovski Annual Snowflake Ornaments
Swarovski 2003 Annual Edition Ornament
Swarovski 2004 Annual Christmas Snowflake / Star Ornament
S872200: SWAROVSKI CRYSTAL 2007 ANNUAL CHRISTMAS ORNAMENT
Swarovski Christmas Ornament Annual Edition 2008
Swarovski Crystal Corporate Gifts
Are you looking for unique corporate gifts for clients, employees, or vendors? If you are, then Swarovski limited edition Christmas ornaments make an excellent choice because of the unique quality of each piece, their easy packing and shipping, and the status and excellence of the Swarovski name and history.
These are one of a kind gifts that can be bought in small, medium, or large quantities, and if you want, you can choose Swarovski gifts at different price points depending on the amount you are looking to spend on each corporate gift.
Swarovski collectibles also make wonderful gifts for family reunions or other family gatherings, as well as motivational and spiritual retreats as a gift that the participants can keep for a lifetime that will bring back many wonderful memories.
Swarovski Christmas ornaments are available right now, and this is a good time to get a special deal on them. Don't wait to buy these special Christmas gifts.
Get a Bargain on Swarovski Crystal Ornaments on Ebay
[phpbay keywords="swarovski annual edition crystal snowflake ornament" num="6″ siteid="1″ sortorder="BestMatch" templatename="default" paging="true"]