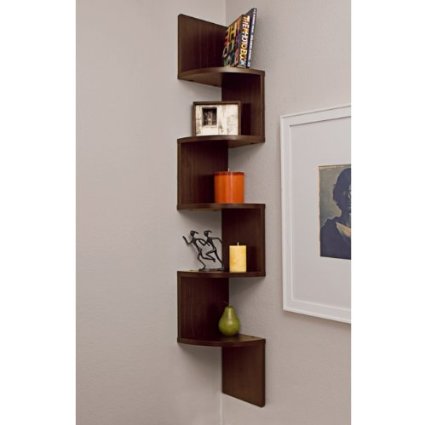 An easy way to add interest to a bedroom, living room or family room is to add some unique shelving. Shelves come in so many interesting configurations including corner shelves, floating shelves and zig zag shelves and they can often tuck into a corner that you are not really using anyway.
With small shelves, you can add some colorful accessories such as a vase, candle or silk flowers in bright contrasting colors to draw the eye. Even though the shelves take up space, you may find that adding them makes the room look bigger instead of smaller. Shelves can be made of wood, metal or glass although if you rent it is better to use a lightweight material.
When buying shelving, consider the size of the space you have, the weight that will go on the shelf and the effect you are working towards. Style makes a difference too. If you like a more modern style, then look for contemporary shelves. You do have the option to take existing shelves and alter them with paint or stain for an antique look or more rustic look.
Shelves can also create a shadow box effect, for display of one item to be hung on the wall. Another option is a thick frame that is hung and used as a shadow box.
Not all shelves need to take up floor space, either. Ledges and corner shelves are often mounted on the wall and do not even go all the way to the floor. You can plot out the space of your room on a piece of graph paper, and pencil in the location that you wish to add the shelves. This will help you see how much space each item in your room uses and you can measure out paper to represent your existing furniture and move it around the diagram to find the best configuration.
Below are just a few examples of unique wall shelves. Click the link for a bigger picture and more details.
&
Floating U Shelves in Walnut Finish
Floating Shelf with Tempered Glass
45-by-15-Inch Wall Shelf, 2-Pack
Large Corner Wall Mount Shelf
&