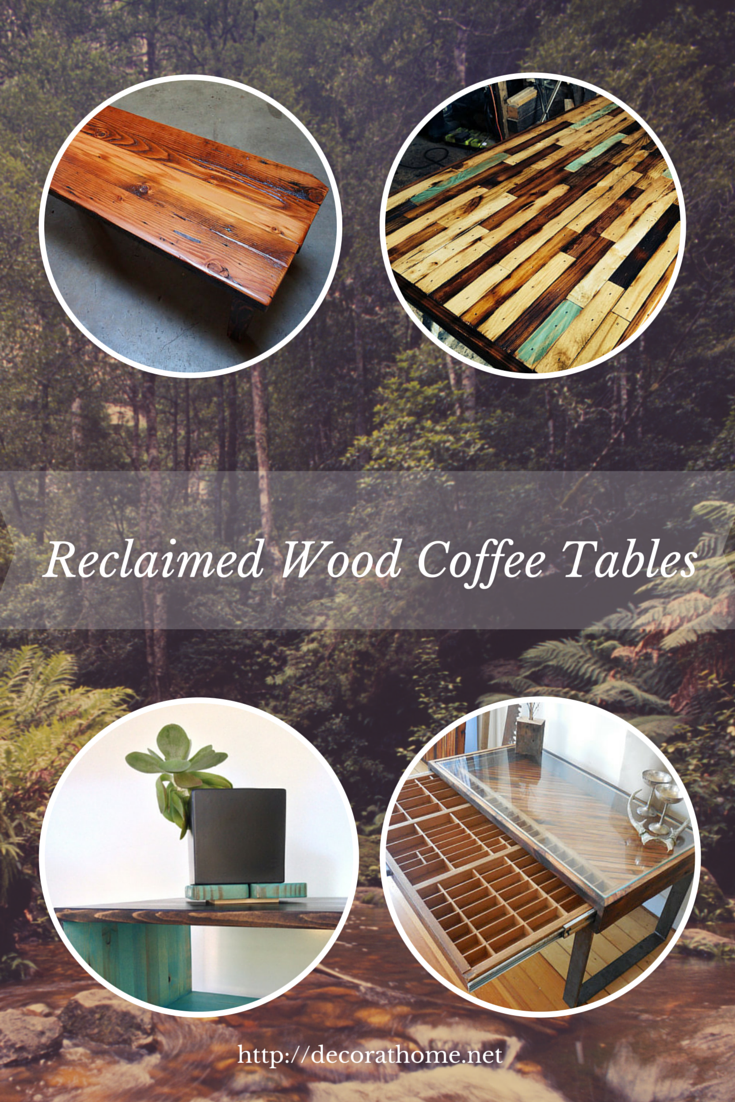 One of the most exciting trends in the last few years has been the surge of designers using recycled and reclaimed products in their work. Using recycled products is a great way to help keep the landfills from overflowing, save money and still get great products for your home. One the most fascinating niches in the recycling industry is the reclaiming of wood from demolition done in major cities with old factories, warehouses, public buildings and schools that were built when solid wood was cheap and used for just about everything–furniture, framing buildings, flooring and more.
Reclaimed wood is gathered by construction companies who work with city demolition companies hand in hand. The demolition has to be done more carefully to get the wood in good condition. This type of work is called deconstruction because much of the building is picked apart piece by piece. However, the resulting reclamation can turn up lots of solid wood for building projects.
Coffee tables are a great way to use the reclaimed wood. You can see the unique grain and color of the wood, and depending on the designer, get a traditional style table or something one-of-a-kind. Many of these projects are made-to-order, so that the customer can get a piece that fits their space precisely.
Here are a collection of beautiful reclaimed-wood coffee tables (and a couple dining tables) that have been made by independent craftsmen around the United States.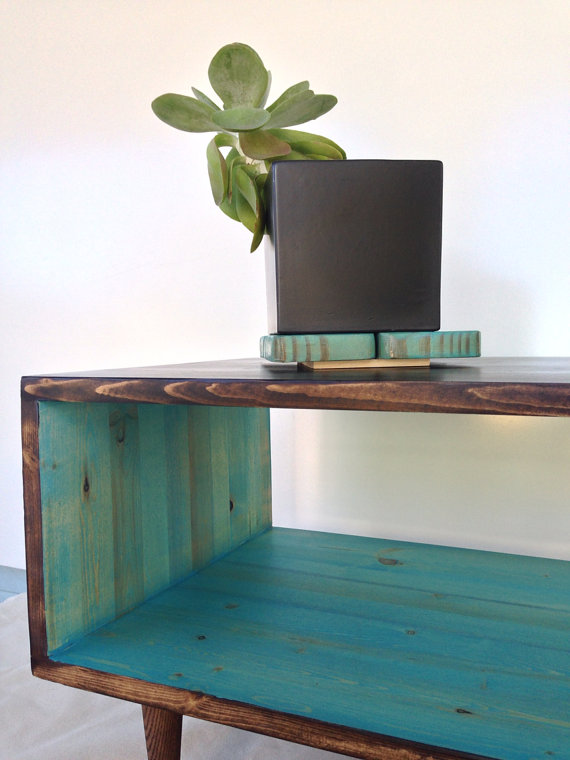 Reclaimed Wood Table by Tiny Lions Designs
This coffee table is built in a Mid-Century Modern design and stained for color. Tiny Lions Designs makes it to order in the size and color you want. Based in New Orleans, this designer adds bright colors to many of the designs. All are done in a Mid-Century style.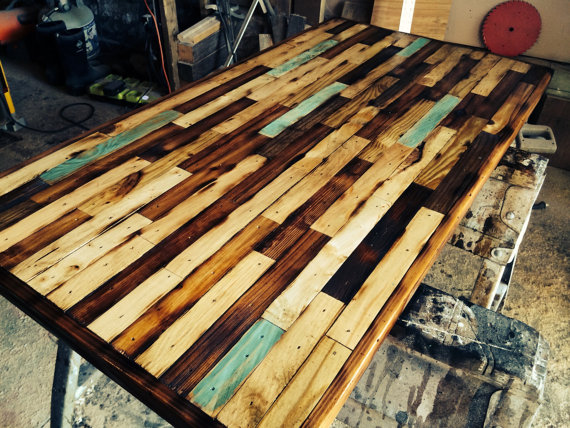 Reclaimed Wood Coffee Table by Rustic Ridge Table Company
The table pictured above is a sample of the custom coffee tables built to order by designer Rustic Ridge Table Company in Nashville, TN. Each table ordered will look somewhat like this image, but unique since they are built by hand one at a time. The wood comes from old pallets and old fencing to make this design. Legs are made from iron pipes.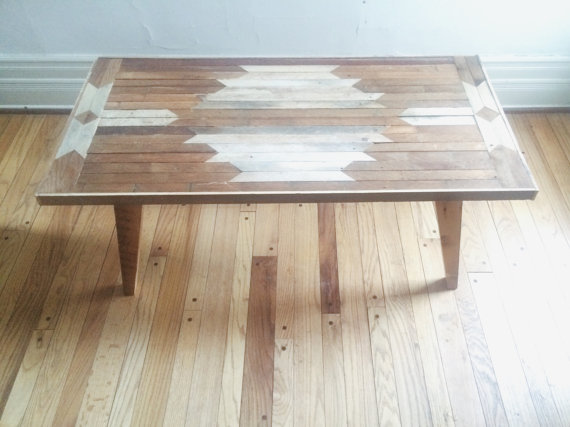 Reclaimed Wood Coffee Table by Wrafterbuilt
Made in Buffalo, NY, this table was designed from wood deconstructed from a house in the area. All of the work from Wrafterbuilt is made from reclaimed materials.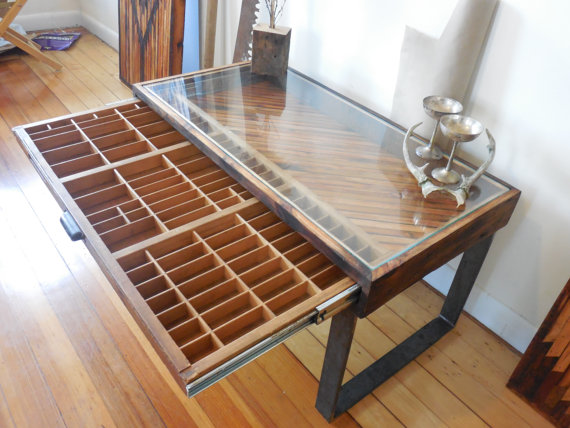 Reclaimed Wood Coffee Table by Unique Industry
This reclaimed wood table is so very cool. Made from the wood from an old printer drawer, it is decorative and functional. The drawer can be used to display collectibles. Made by Unique Industry in Boston. This designer creates pieces with wood inlay that are really incredible. Take a look at this Navaho Design Coffee Table. Amazing!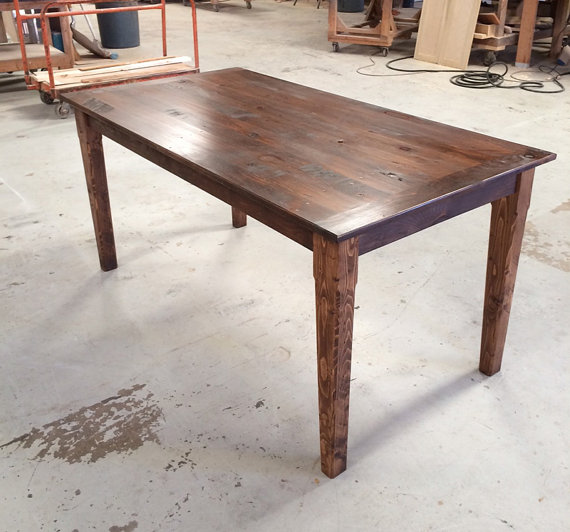 Recycled Wood Dining Table by Sand E Collectibles
This is a dining table. Told you I snuck one in here. This wood table made from recycled materials that are environmentally friendly. The table is custom made with the unique nature of reclaimed wood. It has a rustic look and can be flat packed and shipped to you once complete. They also made tables and other furniture designed to your specifications.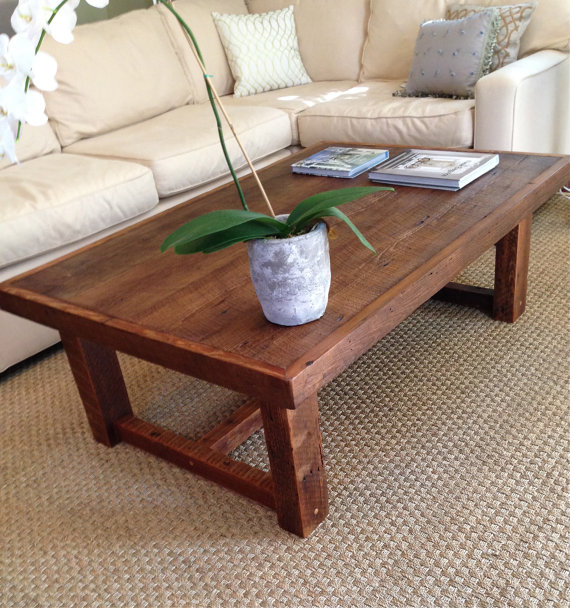 Rustic Coffee Table by Doorman Designs
This lovely rustic coffee table is made from New Orleans wood that comes from buildings damaged in Hurricane Katrina. Many homes were destroyed during that hurricane but the wood from them is being used in all of Doorman Designs reclaimed wood products. This particular wood is called Barge Board which you can read all about when you click through to see more pictures of this design.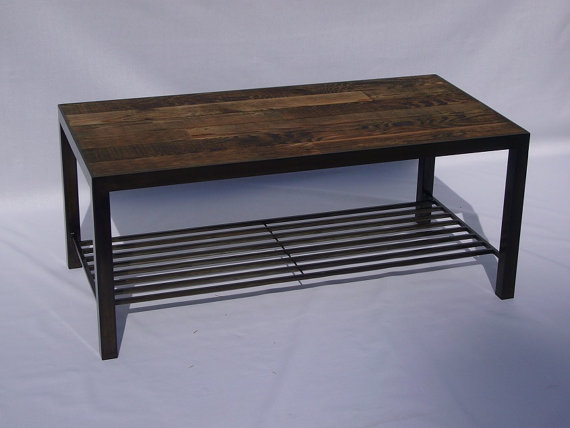 Reclaimed Wood Coffee Table with Shelf by Plateau Metal
I love the mixture of metal and wood in this table. It has the rustic feel from the wood with a more industrial style because of the metal shelf. It can be used in so many different types of decor because of the dichotomy of styles. This table is made from cedar in Sammamish, WA.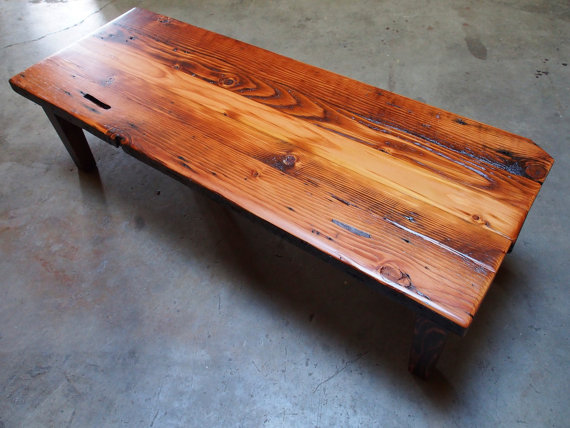 Reclaimed Coffee Table by Perfect 45 Degree
This table looks like it is made from a cross-section of wood from the center of a tree. The colors are magnificent. Designed and built in Portland, Oregon, the Douglas Fir wood gives the table a lovely color and grain. Legs come off for easy shipping and transporting.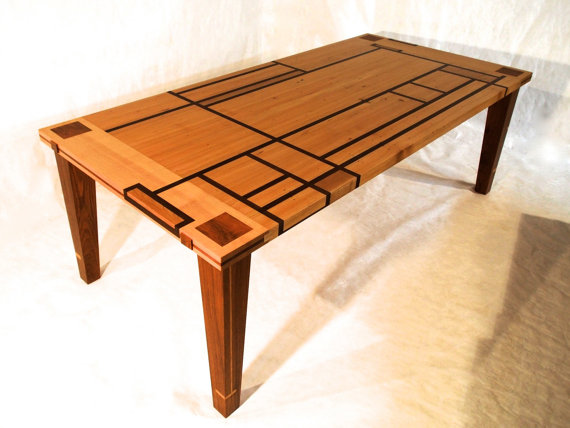 Reclaimed Wood Dining Table by Perfect 45 Degree
Another table by Perfect 45 Degree, this is the second dining table on this page. You can see why I had to include it though. Such a unique design. Also made from Douglas Fir, this table has a completely different style from the one above. The designer incorporates Cherry and other hardwoods into the design for accents. You can click on the link above to see all of the designs from Perfect 45 Degree.
As you can see, there are many variations on tables that are built from reclaimed wood. Some of the variations are from the wood itself and how it has fared before reaching the designer. If you are looking to add furniture pieces with character to your home, this is a great place to start.