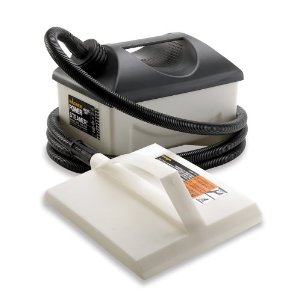 Wallpaper is notoriously difficult to remove if you don't know what you're doing. Simply peeling it off results in half the thickness coming off, and you're left with the pattern being removed, with the backing still firmly attached to the wall. Worse still, is the wallpaper that doesn't even allow that to happen, and you're left picking at the small bits that provide you with slow peeling, and no satisfaction of taking a big chunk off at a time. But thankfully, there are several effective and easier ways how to remove old wallpaper and leave a good flat surface as a result.
Featured: Wagner Power Products 282018 1-Gallon Wallpaper Steamer
The first way is to score the wallpaper with a knife and then soak it with a stripping solution. These special prepared solutions are available for purchase, but be sure to follow its own guidelines for application. Often it can help to add some hot water to the solution to speed up the process and make it more effective. Apply this special solution to the wall and allow it to soak in for several minutes. The scores allow this solution to penetrate behind the wallpaper and this helps loosen the adhesive between paper and the wall.
Next use a wide putty knife to lever up the paper and gently pull it up and everything being equal, you should be able to pull off big pieces of paper at a time.
A second solution is to use a wallpaper steamer. These are great tools that really aid the removal of old wallpaper. The steamer is filled with water which is boiled. The hot vapors travel down a long tube and out to a rectangular plastic cup. Apply this cup to the wall, and hold it against the wall for several seconds. Then move to an adjacent section, and do the same again. Repeat four or five times, and then you should be able remove old wallpaper easily. If any paper is still being resistant, then simply apply the steamer to it and try again.
Steaming is a great technique especially for plastered walls, but on drywall, more care should be taken because it is more suceptible to water damage, as well as the possibility of being gouged by the putty knife. Although any gouges and holes can be filled and sanded after, this will increase your workload. Also, don't forget to be careful as the steam can easily burn you if you're not careful.
Putty knives or paint stripping tools can now be bought in plastic versions instead of metal. These are just as effective, but are also less likely to leave gouges or cuts in the wall, especially drywall board. It's a useful tip to know.
These two methods are the most effective ways on how to remove old wall paper. Once you have mastered the amount of solution or steam necessary for application, you should be able to quickly and easily remove the wall paper. With both methods, the aim is to reduce the effectiveness of the original adhesive used to fix the paper to the wall, and once this has been effected, removal of the paper should be simple.
[phpzon asin="B000BQMUQK" country="US" trackingid="diy-do-it-yourself-20″ templatename="asin"]