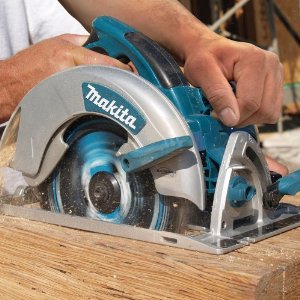 A Tool for Every Need
There are carpenter tools and then there are professional carpenter tools and the latter is radically different from the other when it comes to proficiency and efficiency.  One of the best professional level tools is the Makita 5007MG Magnesium 7-1/4-Inch Circular Saw
. The 5007MG is the essential carpenter's tool when it comes to cutting wood and it is designed to give out optimal cutting power without requiring a lot of effort from your end. This is the tool that helps you make the most of your time cutting wood and is designed for easy accuracy so that you won't make any errors or spend too much time making adjustments to your measurements.
Good Design Points
There are a lot of good points to talk about when it comes to the Makita 5007MG and most of it draws from the ergonomic design and the powerful motor that drives this machine. Unlike other tools that hard to hold, hard to see with, and hard to make an accurate cut without exerting too much effort, the 5007MGis a tool designed for easy gripping, easy measuring and requires very minimal effort on your end. Here is a brief but detailed look at the top reasons why this particular circular saw rests on top of the crowd.
First of all you will notice that the Makita 5007MG is run by a powerful 15 AMP, 5,800 RPM motor. This guarantees that you get the most precise cuts without the need to push down hard or to exert a lot of effort just to get a minimal cut on the wood. This kind of power means you can expect to use the circular saw on just about any kind of wood material and still feel like you're cutting butter with a hot knife.
For a tool this strong it is incredibly light and easy to hold. Older models from Makita used to be built of steel and other heavy materials but now they have turned to a decent mix of light but durable metal materials such as magnesium. This places the entire tool weighing a total of only 10.1 lbs. This goes well with the ergonomic design that makes the back and front grips easy to hold even for people with large hands or those who tend to wear thick gloves while working. The design of the grips also allows you to get a clearer view of the cutting area. Other circular saws block your vision and you usually have to rely on pure instinct to get an accurate cut. To further remedy this problem you are provided with two LED lights that function as guide lights when working. This is a tremendous help especially if you are making millimeter-precision cuts.
The warranty for the Makita 5007MG Magnesium 7-1/4-Inch Circular Saw is another good thing to look into. For the first thirty days you can give back the 5007MG for a replacement or for a complete refund if you find yourself unsatisfied with its performance. After that you still get a full one year warranty in case any of the parts break due to a poor design or any failure on behalf of Makita. This is the perfect warranty for this kind of product because you never can be sure of the quality during the first thirty days and it may take some time to notice whether a part of the saw is not on par with the superior quality that the products are known for.
The Cons
If there is any complaint to make about this product it is concerned with the included saw blade. True, they do advertise that the blade is coated with materials that will guarantee it can bite through anything without getting damaged but the truth is that after some time you can expect to start losing blade teeth. This is not a major concern however as you can easily replace these with other top of the line saw blades that easily fit into the Makita 5007MG.
[phpzon asin="B000N5SVEY" country="US" trackingid="diy-do-it-yourself-20″ templatename="asin"]
The Verdict
So how does the 5007MG live up to the standards of Makita? For a device that greatly empowers the user with its easy and effective ergonomic design and its motor that ensures you can use this tool for any kind of wood material and any wood cutting job.