Choosing Hot Pink for Kitchen Decor
When it comes to choosing a color for painting or decorating a kitchen, why not consider hot pink in the kitchen? This bright and colorful shade of pink can really brighten up a space, adding color and style to a kitchen in a home, apartment, office, or college dorm. This lively berry tone can be used strictly for creating a fun and eclectic look, for example, for female roommates in a college dorm. Or, it can be used to create a sophisticated, warm and inviting space in an area where families love to gather. The way you choose to decorate the hot pink kitchen and the accessories chosen can make all the difference in the appearance of the finished room.
To achieve a fun, youthful feel, choose really bold shades of pink. For a less bold look, while still using the same basic hot pink color, choose shades of fuchsia or berry. Some great ideas include painting an accent wall in pink while leaving cabinets and the other walls white or off-white. Or, you might choose to paint all of the cabinet door fronts the fuchsia shade, leaving the walls white or off-white. For another creative painting idea, consider painting the ceiling of the kitchen pink. Just remember to keep some white or off-white showing as opposed to having everything pink. A large, bold pink area rug, or a few smaller pink rugs could be used on the kitchen floor to add color and keep with the theme of the kitchen.
Set of 6 Reversible Placemats Hot Pink

How Pink to Go?
When it comes to adding hot pink to your kitchen you need to decide how far you want to take it. Do you want it to predominate or to provide surprising pops of color? Both work surprisingly well in a kitchen though I'm not sure my husband completely agrees. That said, hot pink is a real funky color that pleases more people than its paler more feminine pastel pinks.
Personally I like to use appliances and accents to surprise people. Here I've searched out suitable appliances that are functional and also attractive to look at. I've picked out well known brands that get good reviews. You can check those out by clicking on the links.
Add to that some nice table linens, towels and accessories and you have a completely new look in your kitchen.
DeLonghi Kmix 54-Ounce Kettle
This stylish design is just want you want in a modern kitchen. Dare to be different. This kettle is a gorgeous shade of pink and the finish makes sure it will last for years. It even has a lime-scale filter.
Check out all the features online.
Fuchsia Coffee Maker
Do you like gadgets? Do you love coffee? Then you are going to love this hot pink coffeemaker. It looks a bit retro but has all the modern technology you could want. It includes a water filter function that makes sure you get the very best tasting coffee. Check out the listings for complete tech specs.
DeLonghi Kmix 2-Slice Toaster, Magenta
DeLonghi Kmix 2-Slice Toaster, Magenta

This is an easy to use and good-looking toaster that will sit well on your counter top. It is made of durable alumionum. Great for toasting bread, buns or crumpets.
Raspberry Ice is Another Name for Hot Pink
After decisions have been made regarding where to use the pink color on walls, cabinetry, and floors, it is time to focus on bringing the hot pink color into other areas of the kitchen. Some fun ideas might include hanging some framed wall art in shades of pink, as well as incorporating some small appliances in the pink shade to add a dramatic splash of color to your countertops. The popular brand Kitchen Aid offers a bright Raspberry Ice colored standing mixer that fits the bill perfectly.
KitchenAid KSM155GBRI 5-Qt. Artisan Design Series with Glass Bowl – Raspberry Ice
5-Qt. Artisan Design Series with Glass Bowl

How do you like this for hot pink? It has al l the functions you need in a mixer and looks fab too – check the listing for details.
KitchenAid 5-Speed Blender with Polycarbonate Jar
KitchenAid 5-Speed Blender with Polycarbonate Jar

This matching blender has 5 speeds that allow you to stir and chop, mix and puree to your heart's desire. Leave it out on the counter-top to provide that essential pop of color.
Cuisinart HM-50WM Power Advantage 5-Speed Hand Mixer, Watermelon Sorbet
Cuisinart HM-50BK Power Advantage 5-Speed Hand Mixer

If you don't so a huge amount of baking, this hand held blender might be all you need. It even has it's own recipe book.
Crock-Pot SCCPLC200-PK 20-Ounce Lunch Crock Food Warmer, Pink
Crock-Pot SCCPLC200-PK 20-Ounce Lunch Crock Food Warmer, Pink

Cuisinart CSB-76PMSLT SmartStick 200-Watt Immersion Hand Blender, Metallic Pink
Cuisinart CSB-76PMSLT SmartStick 200-Watt Immersion Hand Blender

I confess I am fond of stick blenders, they take all the chore out of cleaning and storing a bit blender.
Cuisinart FP-12MP Elite Collection 12-Cup Food Processor, Metallic Pink
Cuisinart FP-12MP Elite Collection 12-Cup Food Processor, Metallic Pink

Adding Hot Pink Accents
Other cute but functional items that can be displayed in the kitchen include fuchsia colored oven mitts, that can be hung from a knob on a cabinet door to add color and for easy access when needed. Consider hanging a bold, berry colored utensil rack on one of the white walls to display your cooking tools and make them easy to find at the same time. A cute apron with a darker pink or with hot pink accents would look great hanging from a hook in the kitchen.
For fun accents, try some fuchsia place mats. If none are readily available, cut your own from a roll of foam shelf liner in the proper color. Adding some dish towels here and there also give the kitchen a welcoming feeling. Place a bright pink dishtowel through the handle of the refrigerator, and wherever else one might add a little dash of color. For kitchens that have windows or a door with a window, consider hanging a light, airy curtain in a matching shade of pink. White stripes or white polka dots in the pattern create a fun look. If dining table chairs lack chair pads, this is another area in which you might use the pink color. If you cannot find pink chair pads to fit, consider buying ready made ones to fit your chairs and covering them yourself with an inexpensive fabric in your chosen color.
 Kitchen Towels

 Slotted Turner

 Mixing Spoon

 Silicone Mitts

Pink candles and candle holders may be used to decorate a kitchen table. A sturdy vase with pink flowers also makes a nice, decorative accent. If you have any other furniture pieces in the kitchen, especially ones that stand along a white wall, you could possibly paint them a berry color to coordinate along with the rest of your kitchen.
 Round Plastic Cover

 Paper Placemats

 Tablecloth Roll

 Table Skirt

 Linen Tablecloth

Don't Forget the Backsplash!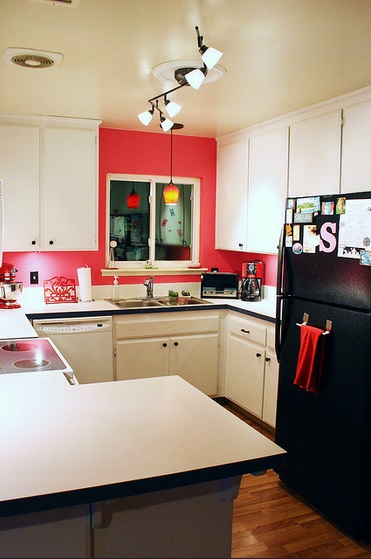 Another location within the kitchen that may go unnoticed when considering painting is the backsplash area underneath the cabinets and above the sink. This is a perfect accent area to apply color to, by either painting or applying ceramic tiles which are perfect for an area that gets splashed with water daily.
Using a bold pink color in a kitchen can really make a statement. When used properly, this color can bring warmth and whimsy to tiny college dorm kitchens, friendliness to a shared office kitchen, and can provide a colorful place to gather, eat, and socialize in the smallest of apartments or the grandest house on the block. Consider using hot pink in your next kitchen decorating project.
Customize These Products
 Round Wall Clock

 KITCHEN TOWEL

 Tile

 Kitchen towel

 Tablecloth

 Kitchen Towels

 Kitchen Towels

 Kitchen Towel

 Kitchen Towel

 Cutting Boards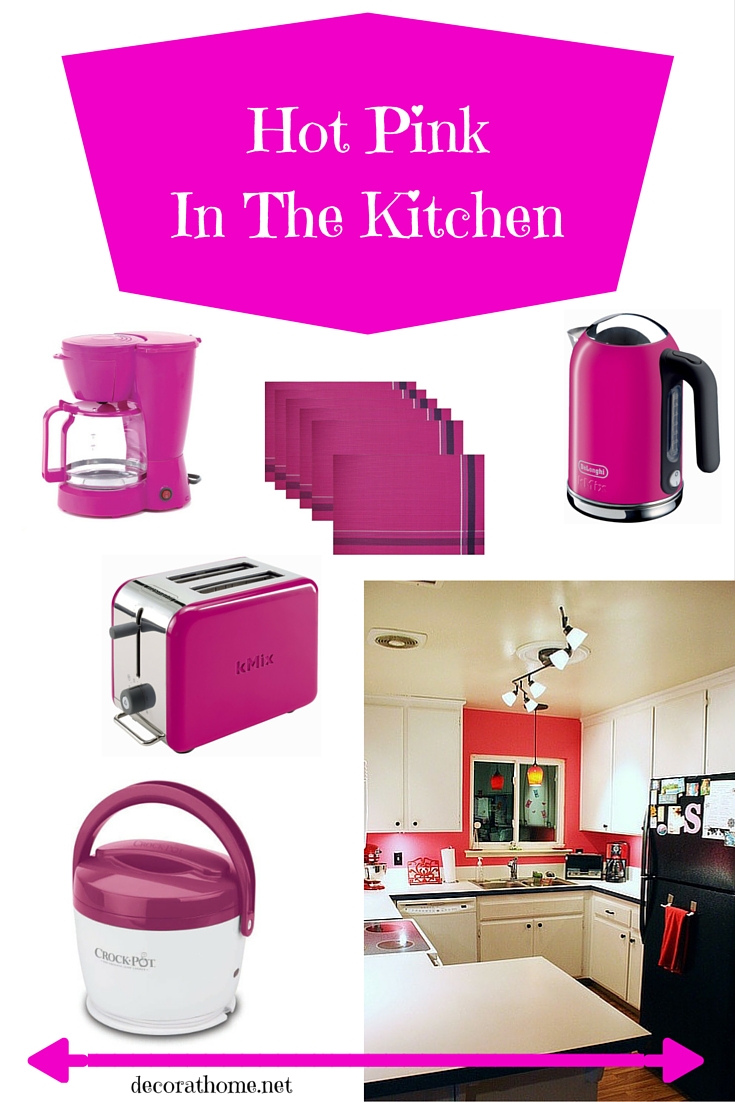 Image credit: Roxycraft CC 2.0
(Visited 918 times, 1 visits today)