The summer is a great time to hunt for and find antiques. It is easy to get around and you can find more garage sales and house sales as well as shop at stores.
Search for the Perfect Antique Collectible for Your Home
When shopping for antiques, it is important to have some type of plan in order to make sure that you find the special items you are seeking and to get a fair price on them.
Antique shopping can be done purely for fun, with no particular treasure in mind. But, if you do have something particular in mind, it pays to do a bit of research prior to hitting the various venues in which you can find antiques.
Finding antiques is half the battle, and a large part of the fun is the experience itself. Here are some helpful tips and advice to make your antique hunting go smoothly and be successful.
Know Where To Look
Each shop has a specialty
To get the best antique finds, it is important to know where to shop. Obvious choices are antique malls and flea markets, or even pawn shops. These places are usually packed with hundreds of interesting and
unique items, many of which may be antiques. The trick when visiting one of these venues is to know how to spot an antique amidst the masses of other items.
The Little Guide to Vintage Shopping: Insider Tips, Helpful Hints, Hip Shops

Other places that can prove to be fruitful when shopping for antiques are garage sales, estate sales, and thrift shops. Most garage sales are listed in the local newspapers, and many include a brief listing of the types of items that will be for sale. In the case of estate sales, these are usually announced to the public through an ad in the local newspaper. Much like with garage sales, there is typically a list of items that will be offered. If the estate in question belonged to an older person, chances are you may find some antique items that have been around through generations of their family. Thrift shops are also terrific places to find that special something. People donate anything and everything to places such as Goodwill, and you could just as easily stumble upon a fabulous bargain such as an antique sewing machine, for example, as you could an everyday used mass market paperback novel. Many times these jewels are hidden among the furniture and home decor section along with more modern items.
Antique Fairs, Antique Shops, and Online Shops
Antique fairs are also very good places to find bargains. If you see an item you are especially interested in, but the seller is asking too much for it, consider paying them a visit later in the day during your antique shopping. Chances are if the seller is about to pack up and it is the last day of the sale, he or she may be willing to make a deal with you on the asking price. Let them know you're willing to take the piece off their hands and save them the trouble of having to pack it up if they only come down a notch on the price.
Small, locally owned antique shops are also fun to shop in, and many times have great bargains. This is also a great way to get to know the shopkeeper and become comfortable asking questions or discussing antiques with them, while at the same time benefiting a local business.
Last but not least, online sites such as Ebay also have a lot of antique pieces to offer. Just make certain to read the information the seller lists very carefully. Inspect all photos thoroughly before bidding or using a "buy it now" option. If you have any questions or concerns at all about the item, by all means, contact the seller before committing to the purchase or bid. Be wary of terms such as "style". For instance, a "Buco style" vintage motorcycle helmet may not be the genuine article, but something similar.
Antique Finds: Just one perfect find can make a room
Know What You are Searching for
Narrow down your search parameters
If searching for a special find, do some research before shopping for antiques. Gaining knowledge about the item of interest will provide you with the information you need to decide if the item is the real deal or a replica, as well as letting you know what condition to expect from the item, and what a fair price range might be. There are several guides that list prices of all types of antiques that can be very useful references. One such guide is Kovel's Buyer's Price Guide.
 Kovels' Antiques and Collectibles Price Guide 2015

 Antique Trader Antiques & Collectibles Price Guide 2015

 Warman's Antiques & Collectibles 2015 Price Guide

You may wish to purchase a printed guide to bring with you on your shopping adventures, or you could use an online site and then print the needed information to take with you as you are finding antiques during shopping.
There is also a wealth of information available at your local library, online, or through printed materials, that can guide you in the right direction during your antique shopping. Also, if you happen to be searching for something very specific, for example, antique period furniture, search specifically for that category of antiques. By searching for something very specific, you will acquire more detailed information about the item you desire, as opposed to just doing a broader search about antiques in general.
Inspect the Item Thoroughly
Do your research ahead of time
If you are considering purchasing something very important to you, or that carries a hefty price tag, then make sure you're getting the deal you think you are. This is especially true when purchasing online from Ebay, Craigslist, etc., as mentioned previously.
If you are inspecting an item in person, look for any damage to the item or for any missing pieces or parts. Obviously, in dealing with antiques, the object is not going to be perfect. With some antiques, the normal wear and tear actually add charm and character to the item, and may actually be the "look" you are seeking. However, if you are considering these antique finds based solely on how valuable it is, be extremely careful when inspecting it. Look for any repairs that have been made to the item, as this will decrease its value. Check for any parts that may not be original. Be cautious when finding an item that seems in such great condition for its age that it almost seems to good to be true. The fact of the matter is, you may have just discovered a replica of an antique, not an actual genuine antique. Just be certain you are aware of the fact that an item is simply a replica before purchasing it, as it will be of nowhere near the value of the real thing.
American Pickers Searching for Antiques in Backyards and Barns
 Big Bear

If you are an Amazon prime member, you can take advantage of many instant videos like this one for free where you can learn a lot about antiques and where to find them. American Pickers is a show about two men who make a living searching for vintage and antique items. They travel around the United States in search of the right pick.
Enjoy the Journey
Antique shopping and collecting is a truly enjoyable hobby. It may even be able to bring you some extra income if you know what to look for. Buying something at a true bargain and selling it for much more is quite possible if you know what you are doing. Most of all, just have fun with it and enjoy seeking out these wonderful pieces of the past to make them a part of your present and future.
Antique Collecting: Costume Jewelry at Garage Sales
[youtube]https://www.youtube.com/watch?v=HeZIjee_Vog[/youtube]
An Introduction to Antique Books
[youtube]https://www.youtube.com/watch?v=3VccalarFTU[/youtube]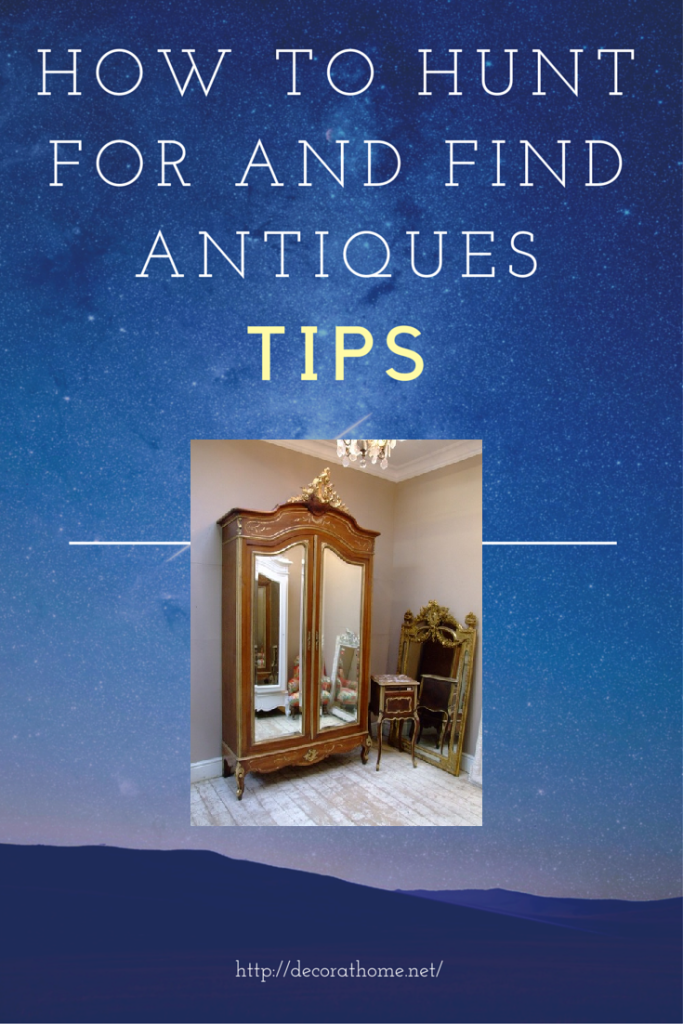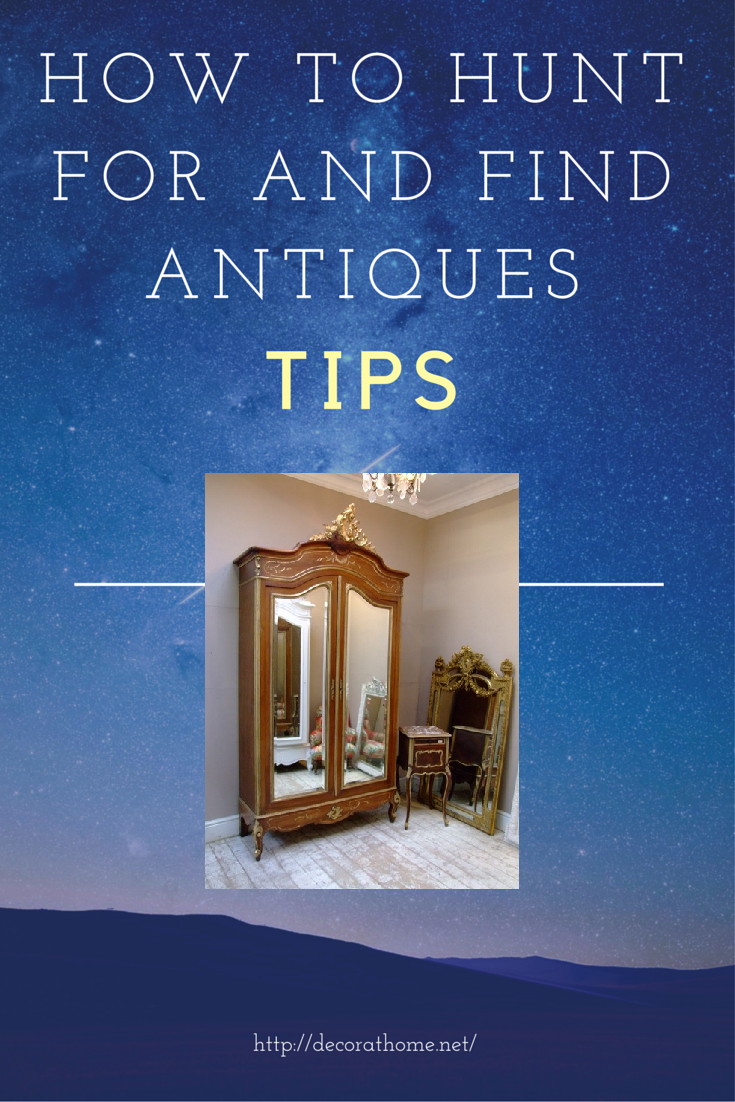 Pinterest Party Summer Fun Blog Hop
This post is part of the Pinterest Party Summer Fun Blog Hop. The Pinterest Party is a group that helps people grow their Pinterest following. Find other posts in this blog hop below:
Paula Atwell How to Hunt for and Find Antiques – Tips (that's me!)
From Sea To Shore Collection by Vinn Wong
Huckleberry Ice Cream by Corrinna Johnson
Summer Garden Salad with Lemon Dill Dressing by Kristen Carrasco
Campfire Skillet Apples by Ann-Marie
Summer Staircase Refresh by Megan Chamberlin
Arizona Bucket List – 12 Reasons to Visit Arizona by Sadie Lankford