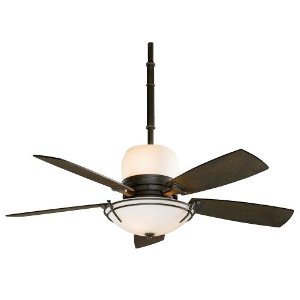 Ceiling fans should be correctly fastened to an electric ceiling box that is designed to sustain a heavy ceiling fixture. It must not only hold the wiring, but the total weight of the fan must be supported. If the ceiling fixture you had previously was of light weight, the box will probably have to be replaced with one manufactured for ceiling fans.
Determine Your Usage
If you prefer a ceiling fan to circulate heat during the cold months, known as reclaiming heat, and keep you cool during the summer months, a ceiling fan with reverse remote control is best. During summer months the fan blade should rotate in a counter-clockwise motion. For winter month the blades should turn in a clockwise motion.
Featured: Fanimation HF7600DS Hubbardton Forge Presidio Tryne Ceiling Fan, Dark Smoke Finish, 5 Slate Blades, Opal Glass
Will Fans go Outside or Inside?
If your fan will be on your patio, porch, or in a screened area, outdoor fans will be the most accommodating. Outside ceiling fans are UL classified for damp and wet areas. Wet ceiling fans can stand-up to direct weather changes and damp-rated ceiling fans can be inside covered outside areas like patios.
Where to Place Your Ceiling Fan
When purchasing your ceiling fan, be aware of which room and the size of the room your fan will be installed. Air movement is the mix of a number of factors. A large room or living room ceiling fan should be large, and bedroom fans should have a quiet motor with a minimum four star rating for great uninterrupted sleep.
Recommended Installation Heights
To decide the correct height for your ceiling fan, measure the length from the precise point in the ceiling where it is in conjunction with the floor right below.
Ceilings under eight feet, should utilize a flush-mount ceiling fan. Codes require that ceiling fan blades are not lower than seven feet from the floor which makes flush-mount ceiling fans your best bet.
For ceilings below eight feet consider hugger ceiling fans minus any lights, since they are inclined to be the lowest profile-fans.
Ceiling fans should hang eight to nine feet from the floor.
Fan blades must be at least seven feet away from the floor.
Fan blades must be a minimum of 8.5 inches from the ceiling.
If you have very high ceilings, lowering the ceiling fan would be practical. This will improve cool-air circulation or heat reclamation.
Ceiling Fans and Your Home Decor
There are a number of basic rules applied when selecting a ceiling fan finish for your home. Ceiling fan etiquette states that fan motor finishes are normally selected to match additional metallic hardware in a room such as door knobs and table lamps. Fan blade finishes are normally made from wood and should match door, flooring, and furniture. The style of your room has plenty to do with your choice of ceiling fan as well.
These three styles of ceiling fans are the most popular:
Contemporary-for sleek architectural styled rooms.
Traditional-for more formal type rooms.
Exotic-for bright, sunny rooms with rattan and palm-leaf materials.
Tools you will need:
Wire cutters/strippers
Side-cutting pliers
Crescent wrench
Voltage tester or multi-tester
Drill with long bit
Long nose pliers
Hammer
Reciprocating saw
Lineman's pliers
Metal-cutting keyhole saw
Installation:
Examine the joists for wiring or plumbing pipes that may be a hindrance prior to installing your fan.  Be sure the electrical box that keeps the fan in place is classified.  Check all parts and instructions prior to beginning your installation.
The installation process itself is quite simple; the steps go as follows:
Slip In the brace
 Tighten the brace
Attach the box
Install the mounting plate
Put together the down-rod and canopy
Wire the fan
Fasten the canopy to the mounting plate
Attach the blades
Recommended Ceiling Fan Brands:
Ratings are 1 to 5 with 5 being the best.
Hunter Fan Company 23856 52in. Classic Original Ceiling Fan
This ceiling fan is an American legend and the strongest Hunter ceiling fan on the market.
Rating: 4
Fanimation HF7600DS Hubbardton Forge Presidio Tryne Ceiling Fan
The Hubbardton collection is expensive but produced with superb quality materials. This design is created to work with the existing Hubbardton Forge lighting collection.
Rating: 5