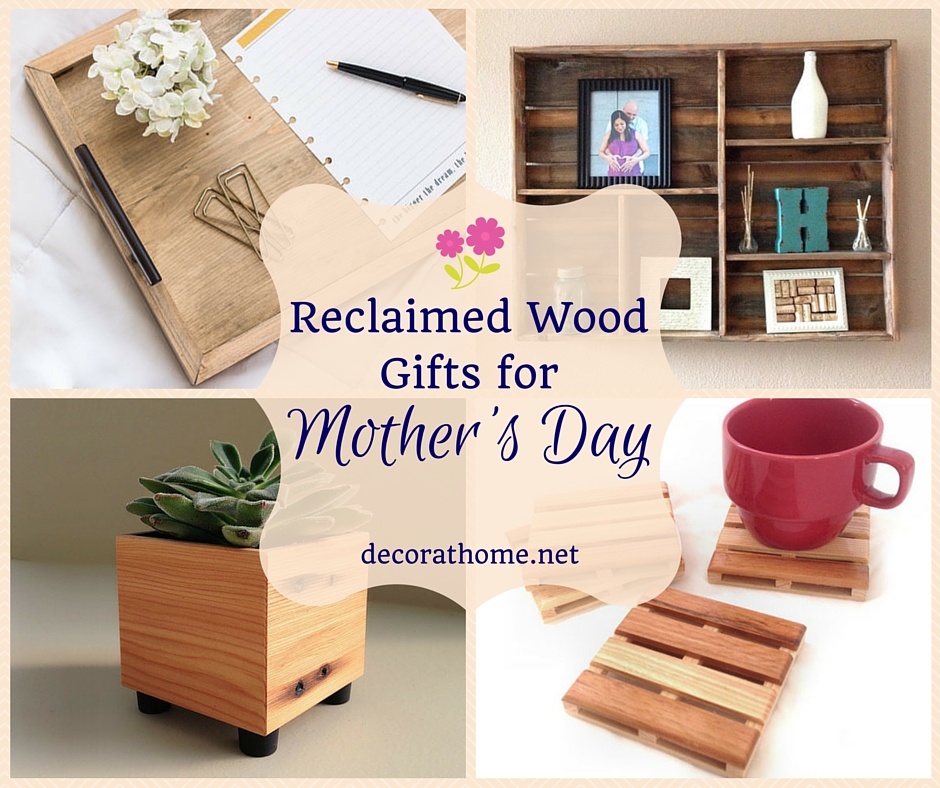 Reclaimed wood comes in many forms from deconstructed building wood to driftwood, but engineers, architects, builders and craftsman are finding numerous ways to incorporate reclaimed wood into their work. The list of items on this page are all made at least partially from reclaimed wood, and are unique gifts in a range of prices that are suitable gifts to give for Mother's Day. They are loosely listed in the categories of accessories, gardening, furniture and art. Understand that for each one of these beautiful pieces listed on this page, there are more created by these same artists on their Etsy sites as well as other similar products made by different artists. This page is just a small representation of what is available. Even if you only want to spend $10 to @$20 on a gift, you can find special reclaimed wood gifts for Mother's Day.
Accessories
Accessories is a loose term to define anything that is not in a major category such as furniture or art. This group of items includes everything from building accessories to wood coasters to protect your surfaces.
Live Laugh Love Set
Mom will love this set of small signs to grace her kitchen wall or another room in the house. You can also lean them on a bookshelf for display purposes.
&
&
Rustic Wooden Heart
Show your love to Mom with the rustic wooden heart shown here for her living room or bedroom shelf. You can also hang it up on the wall with an added hook in the back.
&
&
Reclaimed Wood Shadow Box
I love shadow boxes, because they are and ideal way to show off small framed pictures or collectibles from your trip to the beach or from a family reunion. This one has six open spaces to place your collection. The deep wood color also gives a nice contrast to the lighter colored items in the showcase.
&
&
E – Corbel (set of 2)
This artist makes a wide collection of these corbels, the E-Corbel is only one of them. you can find all sorts of cool shapes to hang a shelf on or use as sconces for your wall. Click through to see the entire alphabet of corbels.
&
&
Rustic Reclaimed Wood Memento Box
For anyone who loves to collect boxes and put their belongings in them, this box is perfect. Stained reclaimed wood has a rustic appearance, and will hold your memories nicely.
&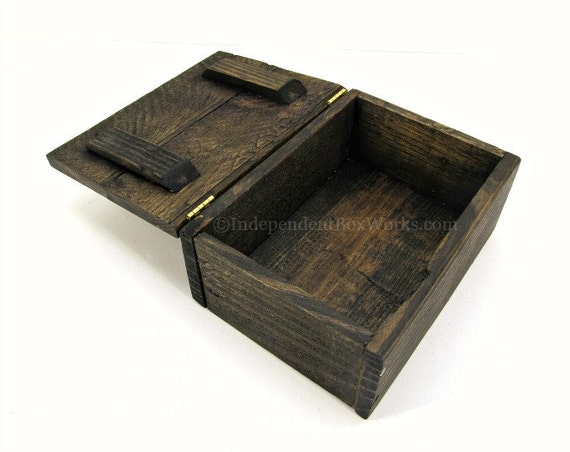 Rustic Reclaimed Wood Memento Box

&
Reclaimed Wood Coatrack with Vintage Style Hooks
Great for your entryway, this coatrack keeps guests' jackets and coats off the floor and allows them to air out and dry before they have to leave. Made from reclaimed wood, it has an arrow patterned background.
&
&
Rustic Tree Bark Coasters
For a small gift, these coasters are beautiful. Their rustic appearance is perfect for a cabin or industrial style home. Click through to see more styles of reclaimed wood coasters.
&
&
Maryland Pride Crab Mallet
If you love crab or lobster, this crab mallet is just what you need in your kitchen utensil collection. Great for anyone who eats freshly cooked crab regularly.
&
&
Reclaimed Wood Serving Tray
Serving trays are always handy when guests come over, or when you just want to sit in front of the television and veg. Mom can appreciate one of these trays for bringing food to the picnic table.
&
&
Beverage Pallet Drink Coaster
These little pallet coasters are very cute and you can buy as few as just one. Such a great idea for the Mom who entertains.
&
&
Chandelier Wood – 17 Unique Pendant Lights
These chandelier lights hang from a piece of reclaimed wood and are perfect for a rustic style home. Each light is a different shape and hang from varying heights. They would look great above a reclaimed wood dining table.
&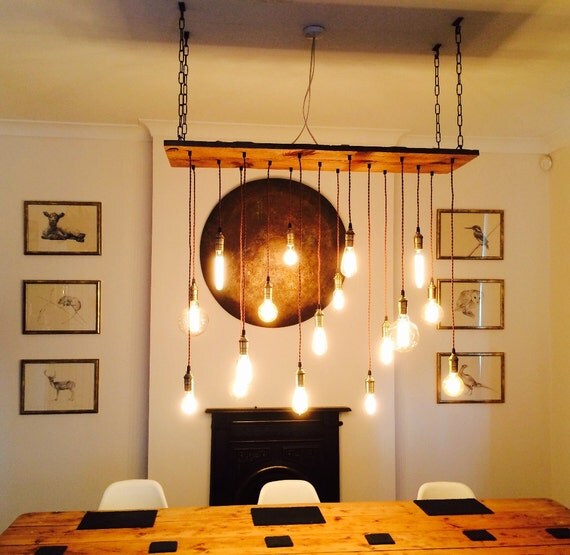 Chandelier Wood – 17 Unique Pendant Lights

&
Wood Serving Tray
This serving tray can also be used as a work desk to work on a couch or in bed. it is a bit more refined that the one listed above with lower sides, yet is still fine for serving. Great for bringing mom breakfast in bed on Mother's Day.
&
&
Rustic and Antique Round Wall Clock
This is only one of so many incredible reclaimed wood clocks on Etsy. I chose this one because of its eclectic style and mix of colors. It was a very hard choice though; I had a lot of others that I liked.
&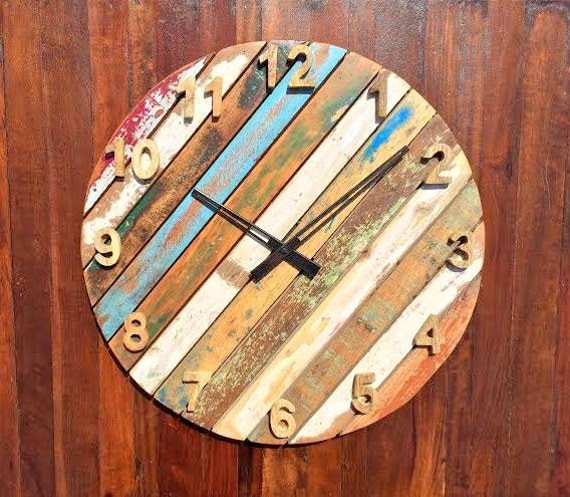 Rustic & Antique Round Wall Clock

&
Gardening
Reclaimed wood is perfect for a garden because it blends right in to your outdoor setting. You can use these items indoors too, depending on where you like to place your plants. For indoor use, you may want to coat the wood with polyurethane.
12″ Rustic Planters Box
This planter box looks like a railroad tie from the outside and can be placed directly in your garden, on your patio or porch. If you do use it indoors, coating it with clear polyurethane will keep it from leaking moisture in your home. You can also line it with plastic before placing plants in it.
&
Succulent Planter Pot
This is a beautiful planter designed for succulents which can be placed indoors or outdoors depending on your climate. Perfect for home or office, this planter makes a lovely gift for mom.
&
&
License Plate Birdhouse
These rustic license plate birdhouses are so cute for a patio or to hang from an awning. Mom will love the recycled nature of these birdhouses.
&
&
Art
Artists can truly make art out of the most interesting materials and that includes reclaimed wood. These pieces range in style and price, but mom will surely appreciate the work that went into making them.
Reclaimed Wood Art
Usually when reclaimed wood is made into art pieces, they are rustic in nature. This contemporary piece is completely different, attractive in a colorful way. Gorgeous for home or office, this is one of several pieces made by this artist.
&
Farmhouse Kitchen Decor
Love farmhouse decor? Then, this sign is perfect for the kitchen. The background is made of reclaimed wood, with a foreground of lower-case letters spelling out "eat."
&
&
Rustic Fairy Sign
This sign is perfect for a garden or indoors as a wall piece on on a shelf. If fairies live in your home or garden, you may need to warn people. Great gift for a mom who has a fairy garden.
&
&
World Map on Reclaimed Wood
For a bedroom or office, this world map can take center stage giving a vintage appeal to the room. The map is on top of the frame with a vintage look to the surface and edges.
&
&
Reclaimed Wood Art – "Gradient"
A stunning piece, this reclaimed wood wall art shows one color blending into another in a rainbow effect although using alternative colors. Very striking for home or office.
&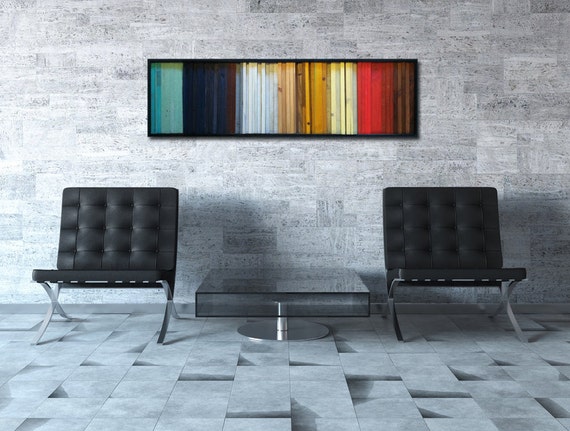 Reclaimed Wood Art – "Gradient"

&
Reclaimed Wood Wall Art
A more rustic piece, this wall art depicts mountains in wood through use of wood color. Simple, yet evocative, this piece would look great in a bedroom or den. Great idea for Mother's Day.
&
&
Personalized Family Name Sign
Mom will love this great piece personalized just for the family name. Put personal details on this sign for displaying in the window or on the wall. Great for an office too.
&
&
Reclaimed Wood Picture Frame
These picture frames are ideal for a Mother's Day gift. They look especially good on a light-colored wall because the wood will contrast the wall color. Great for images of children or grandchildren, these frames will definitely be appreciated.
&
&
Reclaimed Wood Missouri Sign
Get your own state sign for your home made in reclaimed wood. This one is Missouri, but you can click through to see examples of other states. Use this as a base for something else or just as is.
&
&
Furniture
Reclaimed wood furniture comes in many forms. We took a look at some coffee tables in another post. Below are a few pieces that I have selected for Mother's Day gifts, although there are many more to choose from on Etsy. Just like other wood, reclaimed wood can be made into all kinds of furniture or combine with other materials.
Reclaimed Wood Nightstand
This nightstand is the perfect bedside table for a bedroom, but it can also be used as a lamp table in a living room or reading table on a patio. So many uses that Mom will love it as a gift.
&
&
Set of Three Rustic Bar Stools
These bar stools are great for a rustic-style kitchen or bar. Seats are made from reclaimed wood on a metal chair frame. Great gift for a Mom that has a farmhouse, industrial or rustic home.
&
&
Industrial Coffee Table
This is a lovely table for in front of your couch or chairs in a living room or television room. The surface is reclaimed wood with metal legs with a mid-century appeal. Sturdy and beautiful.
&
&
10″ Deep Reclaimed Wood Shelves
There are a lot of lovely shelves on Etsy made from reclaimed wood including some with hidden drawers. This image really appealed to me because it showed the contrast of the shelf with the brackets and decorative accessories. Click through for more shelf ideas for your home.
&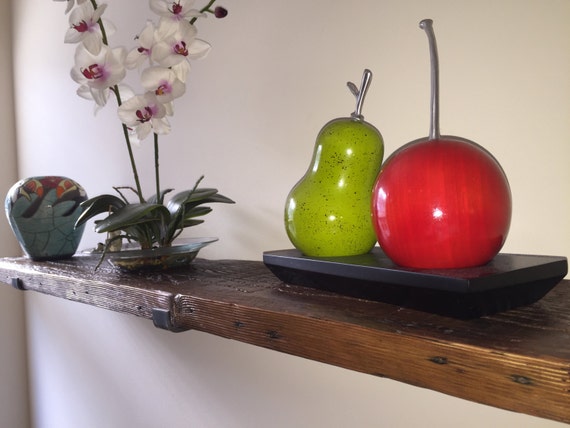 10″ Deep Reclaimed Wood Shelves

&
Reclaimed Barn Wood Desk
A very cool desk that Mom will love for a work space no matter what type of work she does. It is hardy and sturdy while also showing off the unique wood. You can order this desk in several dimensions and it comes with a 3-inch shelf to put your laptop or tablet. This artist makes several pieces in this style and you have several options when ordering.
&
&