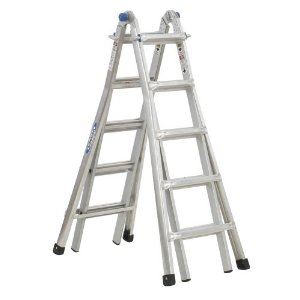 If you are a serious do it yourself person, then you need a serious extension ladder.  A good ladder is necessary for so many jobs, especially indoor jobs like painting near a ceiling, changing light bulbs, installing lighting, and repairing molding, and also for outdoor jobs like siding, painting, repairing brick, and anything on the second story of your house or garage.
My husband and I live in a older home, about 60 years old, and we are constantly repairing our garage roof, fixing siding, and filling in cracks in old plastering jobs.  This year we will probably take on the task of filling in grout around some of the bricks on the outside of our house.
I also use a ladder at different heights constantly in my retail store, because I have a high ceiling with track lights.  I need a 22 foot ladder for that job, and need a shorter step ladder to replace lighting in our front windows.  I also have to patch and repaint walls a lot because I am consistently moving wall art around in the shop.
I have been borrowing the big 26 foot ladder that belongs to my landlord, but I decided that it was time to buy one for myself.  I wanted a ladder that I could use for a lot of different jobs at home and at work, and one that would be flexible and sturdy, so that I didn't feel like I would fall off any minute.  Going up a ladder is NOT one of my favorite things to do, but it is necessary to get some jobs done.
After much research and comparison, I decided to buy the Werner MT-22 300-Pound Duty Rating Telescoping Multi-Ladder, 22-Foot
which is the second longest ladder in this model. One of the reasons that I bought this ladder is that I was able to get a tremendous price on this model from Amazon.  I love shopping on Amazon for some items because they have some great deals on products, that even with shipping, I get a better price than stores in my area.  And if you have a Prime Membership, you can get free shipping on most items.
I also liked that the Werner MT-22 300-Pound Duty Rating Telescoping Multi-Ladder is a professional grade ladder meant for a lot of use.  That means that it is a good investment that will last me for many years of indoor and outdoor usage.  If it is good enough for professional contractors, then you better believe it will be good enough for me, even with my multiple uses and needs.
One of the coolest features of the MT Series ladder is that it can be easily transformed into a twin stepladder, extension ladder, stairway stepladder, or two scaffold bases.  This means that my new ladder will replace all of the old rickety ladders that I currently have.  It scares me half to death every time I climb up on those to change a light bulb, and I will be much more secure on the Werner MT series.
I don't have too many jobs that weigh 300 pounds, but if I needed to I can set up the Werner MT-22 300-Pound Duty Rating Telescoping Multi-Ladder as a stepladder, and it will hold a load capacity of 300 pounds per side, including myself and any materials that I might use.  That means that the ladder will hold just about any size person, including a big burly guy, and a load of cement or bricks if necessary.
One of the biggest problems I have had in the past when I borrow my landlord's tall ladder is that it takes up so much room in my office.  This problem is eliminated with the Werner MT, because the ladder's inner section allows it to be folded into three set positions: extension ladder, twin stepladder, and storage. I can store this ladder out of the way when I don't need to use it.  I can fit it in my car trunk to take it too and from home and work. It is also quite easy to adjust the height because it has spring loaded J-locks. Simply disengage the J-locks on either side, telescope the section out to the desired length (in one-foot increments), and then reengage the J-hooks.  I can go easily from changing lights in my store windows to changing the lights in my raised ceiling without having to drag out another ladder.
I get a little dizzy when I have to go on a ladder.  If my husband is around, I always ask him to climb the ladder for me.  But often, I am in my shop or at home and need to climb a ladder when he isn't around.  I am thrilled with the safety rating of the Werner MT Telescoping Multi-Ladder.  Double-riveted steps provide long-lasting durability, and an extra wide flared bottom provides firm support while smooth curved side rails provide comfort and safe climbing, and best of all, heavy duty non-marring feet provide slip resistance.  The ladder moves less, I slip less, and it doesn't put marks or scratches on my hardwood floors.  I feel a lot safer on this ladder.
When you get this ladder, it is important to read the instruction manual.  I am the kind of person who usually learns through mistakes, and doesn't like to read manuals, but for using this ladder, you should.  You will understand better how to manuever the ladder and extend it.
You can buy the Werner MT Telescoping Multi-Ladder in more than one length; it comes in 13, 17, 22, and 26 feet.  There are also some accessories that you can buy for this ladder that will help with some specialized jobs including a Werner AC96 Standoff Stabilizer for all Werner Aluminum Extension Ladders and Multi-Master Articulated Ladders
, and a Werner AC-18MT 3-Way Tray Attachment for MT Ladders
.  The stabilizer is great for cleaning gutters on the outside of any building, home or office.
There are lots more reviews of the Werner MT Telescoping Multi-Ladder on Amazon.  Click through any of the links on this page to read more about the features and uses of this ladder.